Donald Trump Battles Piers Morgan Over Gun Control: 'I'm a Second Amendment Person'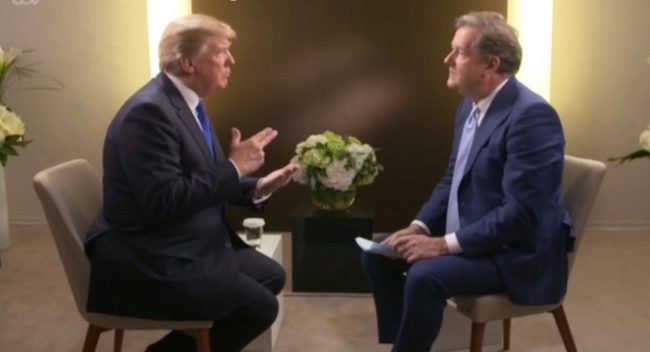 President Donald Trump sat down with UK political pundit Piers Morgan for an ITV interview in which the two hashed it out over gun control issues.
While Trump, a self-declared "Second Amendment person," didn't appear to give Morgan any ground on the issue, that didn't stop the Brit from pushing the president.
"People will be saying, you're very tough on security, you want to keep Americans safe – but you don't do anything about gun violence at all… That seems an irrational position for somebody who wants to keep American's safe," pressed Morgan.
Trump then shot back by pointing to the 2015 Bataclan shooting in Paris, France, as the country's very strict gun laws do not stop the shooting. "you had these thugs come in with guns and, one by one, for a long time, they just killed – and hundreds of people wounded, to this day, still in the hospitals. That was one of the worst," replied the president.
He went on to make the good-guy-with-a-gun argument, saying that if the "bad guys" weren't the only ones with guns, then "hundreds of people" wouldn't have died.
Morgan shot back by making the point that gun violence in the UK is drastically lower than in the US — suggesting stricter gun laws are responsible for the difference.
Trump responded by immediately pivoting the conversation to the "a lot of terrorism" that has happened in UK.
As for the Las Vegas, Nevada shooting — which was worst mass shooting in modern US history — Trump chalked it up to just one "sick person" who would have carried out the violence regardless of gun access. "If he didn't have a gun, he would have had a bomb, or would have something else," said Trump.
The president concluded the debate by saying, "You know, we can go around this argument. I'm a Second Amendment person. I think you need it for security."
However, the two did agree on Trump's recent decision to keeping in place the U.S. ban on the importation of hunted elephants from Zambia and Zimbabwe.
[image via screengrab]
Follow the author on Twitter (@calebecarma).
Have a tip we should know? tips@mediaite.com