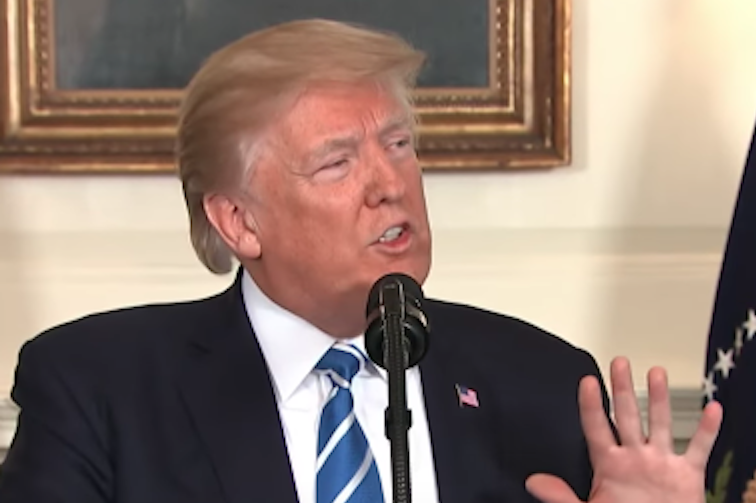 President Donald Trump is a politician and a real estate magnate. You know what's another word for real estate magnate? Landlord. Both politicians and lords of the land are not known for uttering universal truths, as anyone who has tried to get back a deposit check knows.
Trump, however, may be on another level, lest we forget his record-setting inauguration crowd, that time he invented the word "fake," or, uh, his totally wonderful and not-at-all scammy university.
But how much does he lie? The Washington Post has been tracking his falsehoods and, as of this writing, he is up to a whopping 1,628 at just 298 days into his first year as president. Trump has plenty of days left, and as Mashable pointed out, that amount could rise to an astounding 8,000 by the end of his first term if the whoppers keep up at this pace.
That's 8,000, with three zeroes. Barack Obama, who was no saint, lied just over 70 times while in office, according to PolitiFact, which won a Pulitzer Prize, as their website never, ever lets you forget.
Trump, on average, lies 5.5 times a day, but who among us cannot claim the same? Did you really have fun at your coworker's birthday party? Did you really "laugh out loud" at your aunt's meme celebrating yippy dogs? Think about it.
In other news, keep enjoying the highest stock market level in recorded history and the lowest unemployment rate since single-celled organisms roamed the Earth. Thanks Trump!
[image via screenshot]
—
Follow Lawrence Bonk (@sidescrollers) on Twitter
Have a tip we should know? tips@mediaite.com