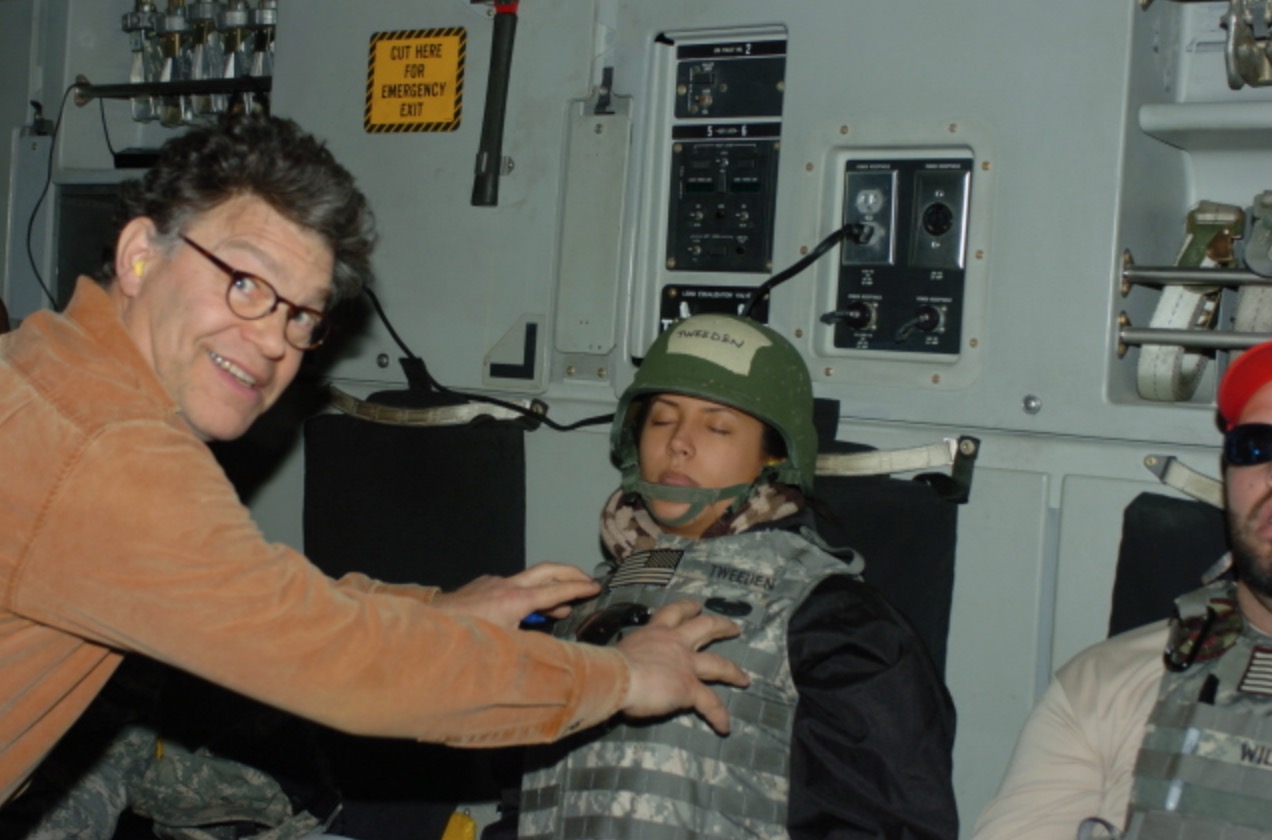 A Los Angeles radio news anchor has accused Senator Al Franken (D-MN) of kissing and groping her without her permission.
KABC Radio's Leeann Tweeden released a statement today in which she recalled her time with Franken when they journeyed to the Middle East in 2006 for a United Service Organizations (USO) Christmas show for U.S. military. Tweeden said Franken used his old comedy background to write a skit for the occasion, and she agreed to perform in it after he wrote a character for her.
Tweeden's character was supposed to receive a kiss from Franken, though she was reluctant to go along with that part. Franken insisted that they had to practice the kissing scene before the show, and Tweeden eventually agreed despite her growing discomfort with the situation:
He repeated that actors really need to rehearse everything and that we must practice the kiss. I said 'OK' so he would stop badgering me. We did the line leading up to the kiss and then he came at me, put his hand on the back of my head, mashed his lips against mine and aggressively stuck his tongue in my mouth.

I immediately pushed him away with both of my hands against his chest and told him if he ever did that to me again I wouldn't be so nice about it the next time.

I walked away. All I could think about was getting to a bathroom as fast as possible to rinse the taste of him out of my mouth.

I felt disgusted and violated.

Not long after, I performed the skit as written, carefully turning my head so he couldn't kiss me on the lips.
Tweeden said she avoided Franken for the rest of the trip, and he responded to that with "petty insults, including drawing devil horns on at least one of the headshots I was autographing for the troops." Tweeden fell asleep during the flight out after the show, and when she got back to America, she found a photo of Franken touching her breasts through her vest.
"I couldn't believe it. He groped me, without my consent, while I was asleep.

I felt violated all over again. Embarrassed. Belittled. Humiliated.

How dare anyone grab my breasts like this and think it's funny?"

UPDATE 11:00 a.m. EST: Franken responded to Tweeden's allegations Thursday morning, claiming he did not remember the rehearsal kiss, but apologizing for the photo:
Just got a response from @alfranken: "I certainly don't remember the rehearsal for the skit in the same way, but I send my sincerest apologies to Leeann. As to the photo, it was clearly intended to be funny but wasn't. I shouldn't have done it."

— Ashes Klein (@kleinstar) November 16, 2017
[Image via screengrab]
— —
>> Follow Ken Meyer (@KenMeyer91) on Twitter
Have a tip we should know? tips@mediaite.com