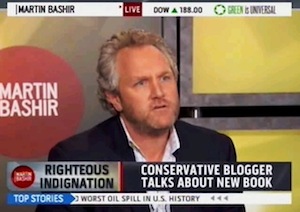 Internet provocateur and cultural-political curator Andrew Breitbart is currently on a rather major promotional tour touting his new book Righteous Indigination. Part of his rhetoric has focused on what he has called the "Democratic media complex," so it seemed an odd image to see Breitbart actually on MSNBC this afternoon, as host Martin Bashir sat down with the network's nemesis, in what turned out to be a very entertaining clash interview.
RealClearPolitics sums up the confrontational exchange:
MSNBC's Martin Bashir asked Breitbart to denounce several racist items, even one that had nothing to do with him. When Bashir accused Breitbart of being connected to racist writer Kevin Pezzi, the interview hit the fan.

Breitbart finally had enough of the equivalent to badgering a witness on the stand and called Bashir out. "You didn't read my book, Media Matters read it for you," he told Bashir. Bashir laughed the accusation off, but the Pezzi story was prominently featured at Media Matters' website.

"Every point that you offered is straight out of George Soros' funded and John Podesta's led Media Matters. You are playing the rule of being duped by John Podesta and Eric Boehlert and Media Matters. Every time I appear on MSNBC, or a lot of times, there is Eric Boehlert from Media Matters to be right there. Those are talking points straight out of Media Matters," Breitbart told Bashir.
Credit to MSNBC for booking Breitbart, and for rightfully challenging him on a number of reasonable points. However, Bashir appeared aloof and above-it-all in a manner that seemed to support Breitbart's charge of media elitism. For a more in-depth interview, please check out Breitbart's Frances Martel, though there is much less frustration and ire in the Mediaite interview, than the sit-down with Martin Bashir…which you can watch below, courtesy of MSNBC:
Have a tip we should know? tips@mediaite.com
Colby Hall - Founding Editor