Ann Coulter And Megyn Kelly Take On Liberal Racism And 'Hazing' Black Conservatives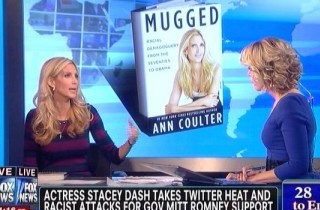 In her second recent appearance on one of Fox's hard news shows, conservative columnist Ann Coulter explained to host Megyn Kelly that President Barack Obama's election was partially a result of "white guilt" and that such guilt has never actually helped black Americans.
Beginning the segment by discussing the backlash black actress Stacey Dash has faced since coming out in favor of Mitt Romney, Coulter said that her critics were engaged in "vicious, actually racist attacks…. And then after putting black conservatives through this vicious hazing process, liberals turn around and taunt Republicans for not having more blacks in our party. Maybe if you'd stop harassing them, black people might look and see the Republicans have a lot of ideas like, 'I like being against abortion and gay marriage unlike the Democrats.'"
"Is it racist in and of itself to presume that all blacks would be supporting a black president?" Kelly asked.
Coulter agreed, adding that "I would not say that liberals have been blacks' truest friends," noting that many Democrats were opposed to the civil rights legislation of the early 1960s.
"[Democrats] don't care about the poor…. The worst thing that was done to black people since slavery was the Great Society programs…. Blacks had a higher marriage rate than white people did throughout the 20th century. Every decade year they checked, blacks were more likely to be married. Great Society programs hit, and that all falls apart, and now you have a 70% illegitimacy rate which is incredibly destructive."
Kelly then played a clip of Kid Rock's Monday night remarks that despite being proud to have elected Obama as the first black president, "he didn't do a better job."
Coulter concurred with the rocker, chalking up Obama's 2008 election to "white guilt" stemming from years of segregation and slavery. "We're very happy we had the first black president, but don't make the same mistake again. It has not helped black people, white guilt has never produced anything good," she concluded.
Watch below, via Fox News:
— —
>>
Follow Andrew Kirell (@AndrewKirell) on Twitter
Have a tip we should know? tips@mediaite.com