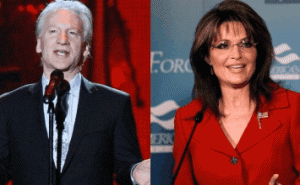 Real Time host Bill Maher wasn't talking about energy efficient light bulbs when he used the term "2 watt" in reference to Sarah Palin on his show, and he wasn't expressing a wish to see her next Tuesday during a weekend performance of his stand-up act. The late-night comic/political pundit often uses shocking language to cultivate an "edgy" persona, but his gender-based attacks on conservative women like Palin and Michele Bachmann threaten to alienate the many pro-vagina viewers in his audience.
According to a review by The Dallas Voice, Maher's use of the slur constitutes "fearlessness":
It's that fearlessness — he acknowledged that some people would probably be uncomfortable with some of his remarks about religion, not to mention calling Sarah Palin a "cunt" ("there's just no other word for her") — that makes Maher the most dangerous person in comedy.
Shock humor is a staple of the stand-up comedy world, so policing the language of stand-up comics is an impossible task, and an undesirable one. Stand-up comedy is art, and is due the same latitude as other art forms.
But, as Newsbusters' Noel Sheppard points out, Bill Maher isn't your typical comic:
Maher is indeed doing political commentary. When he gets interviewed by CNN, MSNBC, or any of the broadcast network news programs, it's not to do one-liners.

It is instead for him to offer his political views about current events in a venue made for such a thing.

Yet, when he makes a comment that crosses the line, he'll conveniently hide behind the comedian veil and folks on the Left will wittingly give him a pass.
I disagree with that last part, of course, since Democratic strategist Kirsten Powers immediately comes to mind as someone who has denounced Maher's attacks. Misogyny isn't just a left/right issue, as the recent #MooreAndMe flap attests.
However, I will concede that there are some who have differing standards on language, depending on the speaker and the target, but that's also not a left/right issue. Sarah Palin is a great example of this from the right.
But on the subject of Bill Maher, Sheppard is absolutely right, Maher is too far out into the political punditsphere to be able to jump back behind the stand-up comic wall when it suits him, and verbal violence like this has no place in politics.
Besides, I've seen this kind of thing from Maher for a long time, and his use of shocking language and jokes, more often than not, is used as a replacement for actual material, rather than as an enhancement.
Maher isn't likely to stop any time soon, unless some of his guests begin to confront and call him out for it, like Dana Loesch did over his use of the term "Teabagger," or until he stops getting a reaction.
Have a tip we should know? tips@mediaite.com