Bill Maher Slams Religious Conservatives: 'Who Needs The Government If You Have Jesus?'
Maher Slams Religious Conservatives: 'Who Needs The Government If You Have Jesus?'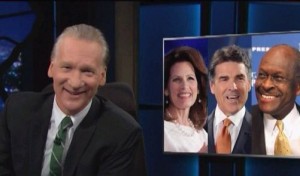 In his last New Rule of the evening, Bill Maher argued that Christian populism and anti-intellectualism have been steadily growing in the Republican party, and that one of the core beliefs of the religious right in America today is that "knowing things has become an affront to the all-knowing."
Maher decided if the Republican party wanted to nominate a devoutly Christian candidate, they might as well nominate Denver Broncos quarterback Tim Tebow. Maher argued that on the football field Tebow was way in over his head, and rated his football abilities as sub-par, but it was Tebow's Christian faith that was the main target of Maher's jokes.
Tebow, apparently, used to write Bible verses in the charcoal under his eyes before a game, and Maher explained while some people would find the practice "creepy," it's the kind of thing Middle America would love him for. He described the "man crush" religious conservatives have on Tebow as "full-on gay."
RELATED: Rep. Tom Price: 'In God We Trust' Resolution Passed Purely As Reminder To President Obama
And while perusing the heavy criticism of Tebow by sports writers, it occurred to Maher that they were saying the same things about the NFL player that he's been saying about Herman Cain and the Republican party at large.
"Knowing things is seen as an affront to the all-knowing. And there's nothing they hate more than secular eggheads trying to fix problems like poverty and health care. Honestly, doesn't a lot of the tea party philosophy boil down to 'Who needs the government when you have Jesus?'"
Maher noted that both Rick Perry and Herman Cain have gone after Mitt Romney's health care plan for not being able to "fit on an index card," and suspected from all the attacks on Romney by the Christian right that it is a very distinct possibility that Romney might be smart.
Meanwhile, as Maher claims, Cain, Perry, and Michele Bachmann have all said that God encouraged them to run for president. But if all three of them were telling the truth, it's clear from Maher's perspective that God is just "fucking with two of them."
Watch the video below, courtesy of HBO:
Have a tip we should know? tips@mediaite.com
Josh Feldman - Senior Editor