Bob Schieffer to Sen. Cotton: Do You Plan on Writing North Korea Next?
Schieffer to Cotton: What About North Korea?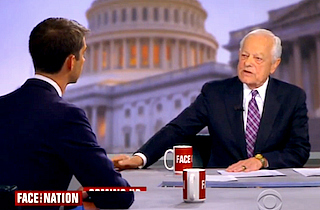 Senator Tom Cotton (R-AR) defended his controversial letter to the Iranian government to a skeptical Bob Schieffer on Face the Nation Sunday morning, just after an interview with Secretary of State John Kerry in which the chief negotiator condemned Cotton's letter as a false representation of the constitutional process written by a foreign policy neophyte.
"The fact that President Obama doesn't see this letter as way to get more leverage at the negotiating table just underscores that he is not negotiating for the hardest deal possible," Cotton said.
"Are you planning to contact any other of our adversaries?" Schieffer asked. "Do you plan to check with the North Koreans to make sure they know any deal has to be approved by the Congress?"
RELATED: GOP Senator: Okay, Maybe We Shouldn't Have Addressed the Letter Specifically to Iran
"Right now I and most every other senator is focused on stopping Iran from getting a nuclear weapon," Cotton said. "That's why it's so important that we communicated this message straight to Iran, because they're not hearing it from Geneva." Cotton added that a 1990s deal with North Korea had failed to stop that nation's development of a nuclear program.
Schieffer asked what Cotton's alternative would be if the currently-negotiating deal fell through. "As Prime Minister Netanyahu said, the alternative to a bad deal is a better deal. The Iranians frequently bluff to walk away from the table; if they walk away this week, call their bluff. Congress stands ready to impose much more severe sanctions."
"Moreover, we have to stand up to Iran's attempts to drive for regional dominance," Cotton added. "They already control Tehran. Increasingly they control Damascus and Beirut, and Baghdad and now Sanaa as well. If that's what they do without a nuclear weapon, imagine what they'd do with a nuclear weapon."
Watch the clip below, via CBS News:

[Image via screengrab]
——
>> Follow Evan McMurry (@evanmcmurry) on Twitter
Have a tip we should know? tips@mediaite.com