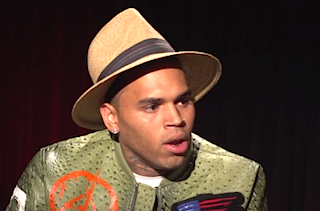 Of all the people to give Baltimore Ravens running back Ray Rice advice, Chris Brown, who was convicted on a domestic assault charge against girlfriend and fellow singer Rihanna in 2009, would not seem like an obvious choice. But more than perhaps anyone else, Brown knows exactly what Rice is going through right now.
During an interview with MTV News' Sway Calloway this week, Brown shared his reaction to the news and even offered Rice some words of wisdom.
"I think it's all about the choices you make," Brown said on Thursday. "With me, I deal with a lot of anger issues from my past — not knowing how to express myself verbally and at the same time not knowing how to cope with my emotions and deal with them and understand what they were." He said he still goes to therapy twice a week because "feelings, emotions, and energy are supposed to come and go. It's not supposed to stay there, you're not supposed to keep it inside, because it'll bottle up and you'll become a monster."
RELATED: CBS Pulls Rihanna Performance from Thursday Night Football Pre-Show
"For me, dealing with my anger issues and understanding myself and the life I've been through, where I'm headed and where I want to be has helped me really focus on what's important and not F up," Brown continued. "For anybody who's going through that situation or anybody who's dealing with it — it's all about the choices. Every situation is different but it's all about the choices you make and how you control your anger."
"To Ray, or anybody else — because I'm not better than the next man — I can just say I've been down that road," he said. "I deal with situations and I've made my mistakes too, but it's all about how you push forward and how you control yourself."
Rice's contract with the Baltimore Ravens was terminated and he was suspended indefinitely from the NFL after surveillance video emerged of him knocking out his then-fiancée in an Atlantic City elevator.
Watch video below, via MTV:
[Photo via screengrab]
— —
>> Follow Matt Wilstein (@TheMattWilstein) on Twitter
Have a tip we should know? tips@mediaite.com