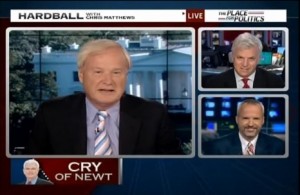 Right near the end of a segment examining the continued relevance of Newt Gingrich, Hardball host Chris Matthews made a comment that probably seemed offhand to most viewers, but not all. In a modern media warscape that has each side out to convince itself of the sinister, conspiratorial bias of the other, Matthews' comment to Media Matters senior fellow Eric Boehlert regarding the media watchdog, to keep posting the information because "we rely on it," probably set off blaring sirens at the Media Research Center.
In the eyes of the right-wing media, you would be hard-pressed to find three more suitable bogeymen than Matthews (forever tarnished for enjoying an Obama speech), Eric Boehlert (the Anti-Breitbart), and "lefty" cable news network MSNBC, and this clip deliciously combines them.
Of course, Matthews was referring to Media Matters' ahead-of-its-time status as instant archivist, rather than to any real collusion. The evolution of the news cycle has finally caught up to Media Matters, who has been curating news video and cranking out microscopically-timed content for years now. Once (wishfully) considered a mere nuisance by the right, the liberal watchdog has become more media savvy, and has expanded its mission to include more original reporting, and an ever more rapid, thorough response to news memes.
Progressive radio host Bill Press, who also credits Media Matters heavily, lamented the absence of a liberal counterbalance to the right-wing radio echo chamber in his book Toxic Talk. In this media environment, Media Matters is poised to become just that counterweight. They provide exactly the kind of content that works right now, they do it cheaply, and thoroughly. With 24 hours to fill, it is awfully tempting to let Media Matters act as your de facto political bureau, a clearinghouse for the dueling sound-bites of the day.
Have a tip we should know? [email protected]