Bill Clinton On Sarah Palin: We May Be Entering A "Fact free" Period In Politics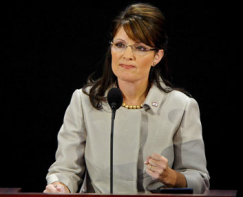 Former President Bill Clinton has been all over the TV this week ostensibly to talk about his Clinton Global Initiative, though inevitably he is additionally serving as a Democratic spokesperson…apparently one designated to take the high road.
This morning he was on Good Morning America and weighed in on the spectre of Sarah Palin, whom Mark Halperin had compared to Clinton earlier this week ("like Bill Clinton: what doesn't kill Sarah Palin makes her stronger"). Actually he sounded surprisingly sanguine about the whole thing.
"I do think she's a resilient character. And we may be entering a sort of period in politics that's sort of fact free, where the experience in government is a negative…I think she's clearly a public figure who is, who speaks well and persuasively to the people who listen to her. And she's somebody to be reckoned with. And she's tough."
As for the possibility of a 'President Palin', Clinton told George Stephanopoulos that the "American people can elect whomever they want…But [she] served, you know, not a full…term as governor, and she went out and did this. We don't even know if she's going to run for President." And it looks like Bill Clinton is going to play nice until that happens.
Clinton also noted that where he comes from people would be impressed by Todd Palin having finished the last 500 miles of Alaska's Iron Dog race with a broken arm. So maybe he is also attempting to fill in for Obama's perceived lack of real people connection.
Have a tip we should know? tips@mediaite.com