Clive Davis Sends Off Whitney Houston: 'You Wait For A Voice Like That For A Lifetime'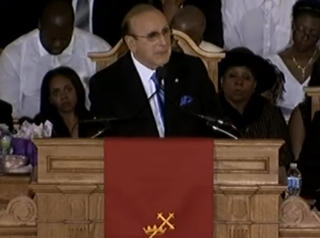 Clive Davis, the man who gave Whitney Houston the opportunity to record music, took to the altar today before the audience at New Hope Baptist Church, telling the audience what it was like to have Houston walk into his office, to see her react to her first #1 hit, to call her a true and loyal friend. With words for the audience and a reminder to her daughter to always be proud, Davis held Houston to her promise that she would "be ready by August" to shine again.
RELATED: Kevin Costner Tearfully Recounts His Time Filming With Whitney Houston At Her Funeral
"You wait for a voice like that for a lifetime," Davis recounted, "you wait for a face like that, a presence like that, for a lifetime," adding that seeing it all in one person floored him. "Whitney lived music, Whitney loved music, this was her world," he added, referring to the church. Recalling the moment she pinched herself when she achieved her first #1 single, and that she toured with every album, he was happy to hear her voice on the "comeback" album, to see her back to what she loved. On a personal note, he added, "yes, she confessed to Oprah about her searing battles, but when I needed her, she was there."
He ended speaking to Houston's daughter, Bobbie Kristina, reminding her to "always be proud of your mother… she will forever be looking after you and always be looking on your path," and concluded that Houston had promised her a rousing comeback by August, and was never one to break those promises.
Watch his eulogy via Fox News below:
Have a tip we should know? tips@mediaite.com