CNN's Cuomo Spars with Trump Over Attack on Fiorina: 'It's Not Presidential'
The h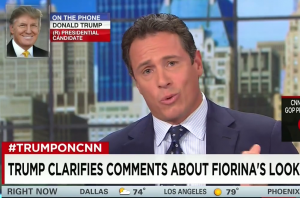 ost of CNN's New Day Chris Cuomo sparred with Donald Trump Thursday morning, with Cuomo pressing the GOP frontrunner on why he felt the need to launch personal attacks on fellow candidate Carly Fiorina.
"You had a 'there he goes again' moment," Cuomo said. "First it was [Rosie O'Donnell], then it was [Megyn Kelly], now they got you in Rolling Stone magazine making fun of Carly Fiorina, you're making fun of the way she looks."
"Why do you talk about the way women look so much? You know it's not presidential," he asked.
"I'm not talking about her looks," Trump protested. "I'm talking about her persona."
"You said 'Look at that face!' You said 'Look at that face!'" Cuomo interrupted.
"The fact is that Carly Fiorina has had a terrible past. She was fired viciously from Hewlett-Packard–"
"But then you should say that," Cuomo interrupted again.
But Trump went on to list a litany of reasons why Fiorina was a horrible candidate, calling her "one of the worst CEOs" and a horrible Senate candidate. "So the statement on Carly, I'm talking about her persona. Her persona is not– she's not going to be president. She's had a terrible, terrible, terrible failed time."
Cuomo responded by quoting Trump's comments, which were unquestionably about Fiorina's looks: "Look at that face! Why would anyone vote for that? Can you imagine that, the face of our next president?! I mean, she 's a woman, and I'm not s'posedta say bad things, but really, folks, come on. Are we serious?"
"I'm talking about persona–" Trump began.
"That's not about persona!" Cuomo shouted over him.
"They talk about my hair, and that's okay," Trump noted.
Cuomo promised to chastise the next guest who attacked his hair. "All I'm saying is that you are the frontrunner. You say that you're going to be President of the United States; there is a manner of behavior that goes with that. I'm not saying be Mr. PC or Captain Gentility and let everyone beat you up. But you know doling out a blow every time you get one, you know that doesn't work in any high-level situation."
In true oblivious Trump fashion, he responded to that criticism with an attack. "Well I'm a believer, perhaps you're not. Maybe that's why your show is not doing as well as it should be."
"That's not nice," Cuomo responded. "You're attacking me for asking you a question! That's my point. That's not what the president does."
Watch, via CNN.
[Image via screengrab]
——
>>Follow Alex Griswold (@HashtagGriswold) on Twitter
Have a tip we should know? [email protected]