CNN's King: Democrats Recruiting Alex Sink to Re-run for Florida Seat in November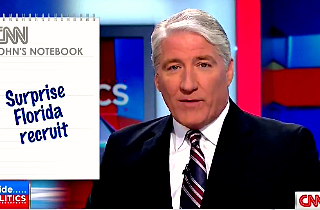 CNN's John King made good on his Inside Politics show title and broke some insider politics news Sunday morning: the Democratic leadership is recruiting Alex Sink to run again for U.S. House seat FL-13 in 2014 midterm election.
Sink, a former gubernatorial candidate, took on David Jolly in a special election last month that many read as both a bellwether for November and referendum on Obamacare; she lost narrowly, and the election was hers to lose.
However, according to King, Democrats think the November landscape looks a bit different: "I'm told the House Democratic leadership reached out to her convinced her to leave the door open," he said. "Now they are lobbying her publicly and privately very aggressively to get her into the race. "
Why?" King mused. "They think still she is the strongest candidate in November. Not so much because of her strengths and weaknesses. But they've run an analysis and they think this: with Charlie Crist as the Democratic nominee for Governor — used to a Republican, but he's a Democrat now — in that particular area, Crist is very popular. They've run a new voter model that says even though she lost the special election by two points, they think she would win in November by about a point and a half. We'll see if they can talk her into taking that risk."
CNN then pivoted to flight MH 370.
Watch the clip below, via CNN:
——
>> Follow Evan McMurry (@evanmcmurry) on Twitter
Have a tip we should know? tips@mediaite.com