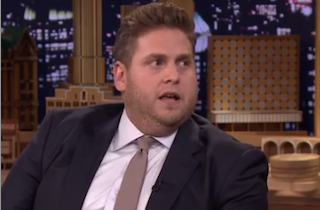 Two big tours happening this week: The Hillary Clinton book tour and the not previously-scheduled Jonah Hill apology tour.
The latter comes after the unlikely 30-year-old actor—who is sitting on top of the world after an impressive (Oscar nominated) turn in the great Wolf of Wall Street—hurled a six-letter f-bomb ("faggot") at a photographer who he says was harassing him. So does this mean Hill is a closet homophobe who was finally exposed in show of angry candor?
No.
Like Alec Baldwin, Hill is not a homophobe. In Baldwin's case, his f-bomb was also directed at an aggressive paparazzo. The word was used in each instance in a reflexive manner, not because of their value system or hate. Remember, both have made out with the same man on camera (Baldwin with Russell Brand in Rock of Ages; Hill with Brand during the MTV Movie Awards). Both work with and donate generously to LGBT causes and therefore should be judged more on those actions. In a related story, Brand–Katy Perry's ex-husband–admits to being a tri-sexual (he'll try anything).
Hill's apology tour has extended from radio to television, where the actor was originally booked to promote his new comedy, 22 Jump Street. "The word I chose was grotesque, and no one deserves to say or hear words like that," Hill said to Jimmy Fallon's audience (and millions watching). "I'm sorry, and I don't deserve or expect your forgiveness."
He also told Howard Stern a day earlier: "Look, I think I'm pretty good at being in movies. I am not good at being a famous person. I'm just not." You don't hear this stuff very often from the rich and famous. A few weeks before that, Howard lamented on the air using the word "c—sucker". Note: Howard—a gay advocate before it became fashionable to be one–has periodically used that word on the air for years, but only most recently realized that living in 2014 means being instantly labeled regardless of intent. To paraphrase, Stern said he now needs to find another word to replace it.
All of that said, the Hill apology is half about regret, half about fear of losing a career because of one bad moment. Remember, Baldwin was ousted from MSNBC upon losing his temper not on a studio set, but in the middle of a Manhattan street (although it could also be argued MSNBC was looking for an excuse to get rid of him because he was reportedly difficult to work with and/or his low-key show wasn't what network brass was expecting).
Back in 2007, Isaiah Washington lost his job on ABC's Grey Anatomy for the same reason. He's basically never been heard from again in major acting roles. The Lakers' Kobe Bryant has been fined thousands (in Kobe's case, $100K) for losing his temper at a referee and saying the word during a game. The NFL is considering a penalty for using gay or racial slurs during a game.
The culture we live in now says there are severe consequences for offensive racial and gay language in public or even in private. Just ask Paula Deen or Donald Sterling. So when you see Hill apologizing in the manner he is…yes, it's sincere…but it's also done out of dread of being ostracized–regardless of past advocacy or activism–after working so hard in making it to the top.
"I'm not at all defending my choice of words but I am happy to be the poster boy for thinking about what you say and how those words, even if you don't intend them and how they mean, they are rooted in hate," Hill told Howard, simply adding: "I shouldn't have said that."
In the age of accountability where seemingly everything is recorded, apologies are all the rage these days. But with every apology comes accountability.
By passionately addressing this situation with urgency and candor in the biggest venues available to him and offering no excuses along the way, Jonah Hill has successfully made himself his own judge and jury.
Given the positive reaction from media and fans alike, he won't lose his ability to make a living as an actor anytime soon.
— —
>> Follow Joe Concha on Twitter @ConchaMedia
Have a tip we should know? [email protected]