Coulter Goes Ballistic On Hannity Over Immigration: You're 'Like A Liberal Making A Silly Argument!'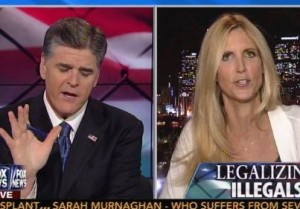 The title of Ann Coulter's latest column on the immigration bill in Congress is "If The GOP Is This Stupid, It Deserves To Die", so she clearly has an issue with how Republicans have handled the immigration debate. She continued slamming the GOP on Sean Hannity's show tonight, calling immigration bill supporter Marco Rubio "the Jack Kevorkian of the Republican party," and insisting that any bill that goes through the House and Senate will be amnesty first, enforcement second. When Hannity asked what Coulter would do with the millions of immigrants currently in the United States, she rolled her eyes, told Hannity it's not a crisis, and exclaimed, "You are like a liberal making a silly argument!"
RELATED: GOP Sen. Slams Immigration Bill, Citing NSA Controversy: Why Would That 'Work Out Any Better?'
Coulter dismissed the so-called triggers to citizenship in the bill as "phony." Hannity said he spoke to Rubio, who explained that the bill supports temporary legal status until border security is fixed. Coulter insisted that the American people (except for employers who like cheap labor) want enforcement first, and that the government should be enforcing the E-Verify system.
Hannity asked Coulter what she would realistically do with the millions and millions of illegal immigrants in the United States. She dismissed the "total frog and a fig leaf" that Americans literally "can't sleep at night" because of this crisis. When Hannity interjected to get Coulter to answer , Coulter exasperatedly fired back.
"You are like a liberal making a silly argument! It's a straw man argument! Nobody cares! This idea that it's an emergency, it's a crisis, it's preposterous!"
Hannity then asked Coulter what would be the next step after 100 percent border security. Coulter said if Congress was really serious about doing that, they would enforce E-Verify and build a fence. She predicted Congress will pass an amnesty bill, which will mean "the country is over" and people will "punish" the Republicans who let it happen. She also pushed back against the idea that Hispanics are natural Republicans, and concluded that if amnesty passes, the GOP will continue losing national elections.
Watch the video below, courtesy of Fox News:
—–
Follow Josh Feldman on Twitter: @feldmaniac
Have a tip we should know? tips@mediaite.com
Josh Feldman - Senior Editor