Craig Ferguson Discovers A French Talk Show Is Imitating His Bits…So He Invites The Host On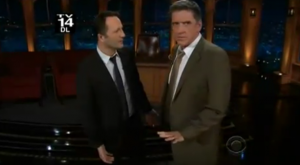 We've all had our eyes glued on Conan for newsworthy stories and, somehow, we overlooked that the most interesting story in late night was happening on The Late Late Show (this is point where my parents, diehard Craig Ferguson fans, call up to point out that the best jokes are happening over there too). Recently, Ferguson and his staff noticed that the host of a show in France called Ce soir avec Arthur ("Tonight with Arthur") had been stealing bits and them. He even stole the main titles! Instead of going to war, Ferguson did something better: he invited the guy over!
The whole thing is too bizarre. In his monologue last Monday, Ferguson introduced his audience to Arthur (real name Jacques Essebag) by playing the opening titles side by side. Sure enough, everything from the locations of the shots down to the very length of them is identical. Ferguson yelled, "If you're going to steal from a show, what about a good show like Lost or The Wire? Don't steal fromthis show! That's like taking pants from a hobo!" (this is the point where I call up my mom, diehard Lost fan, to point out that that show was kind of terrible 95% of the time)
The question then became how to respond. From the Associated Press:
"'Our first reaction had been: You gotta be kidding me!' said producer Michael Naidus on Monday. 'But then, as with pretty much everything that happens to us on the show, we looked for the best way to make it funny and entertaining. And in this case, that didn't seem to involve lawyers.'
Executive producer Peter Lassally added, 'At one point Craig asked us, "How should I be feeling about this?" And we said, "You should be amused by this."'
'Tonight With Arthur' premiered in November on France's Comedy! cable channel, but the host, whose real name is Jacques Essebag, is a 44-year-old veteran of numerous French radio and TV talk shows.
Over the weekend, he contacted Ferguson by phone.
'Craig spoke to Arthur for a few minutes,' Naidus said, "and quickly determined that the guy is a pretty big fan of "The Late Late Show."'
In a flash, Arthur was booked for a guest shot. On Sunday he flew to Los Angeles for Monday's taping, in the process canceling the taping of his own show in Paris.
'It didn't seem worthwhile, or interesting, to make this a confrontational thing,' said Naidus. 'So the idea was for us to sort of give our blessing to him, in the form of comedy.'"
So, last night, as The Late Late Show opened, it was Essebag standing in the spotlight and giving the monologue. Soon, Ferguson runs in to accuse him of stealing. Essebag responds that his show is merely an homage. Thus begins a truly bizarre bit that continued through with multiple appearances by Essebag throughout the show, ending with the pair reenacting the final scene of Casablanca.
As Conan O'Brien learned last year, there's nothing that can happen to a talk show host that he can't use for the better. Of course, NBC trying to move your show back a half hour seems almost bland compared to a French guy stealing the whole thing. Hmmm, despite awesomeness like this, maybe my parents are right and I am watching the wrong show.
They're not right about Lost though. Most of that show sucked.
Check out the clips of the initial monologue and last night's confrontation from CBS below:
Have a tip we should know? tips@mediaite.com