Dana Perino Slams Democrats Fundraising Off Gay Marriage As 'The Crass Politics Of The Left'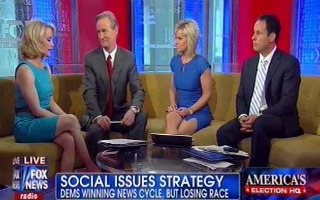 Former Bush White House Press Secretary and host of The Five, Dana Perino, appeared on Fox & Friends on Monday where she slammed President Barack Obama and the Democratic party for embracing a divisive strategy of elevating social issues over grand economic themes. She also said that Democrats fundraising off Obama's gay marriage announcement and positioning against Republican presidential candidate Mitt Romney on the issue within such a short timeframe was "exceedingly political" and part of the "crass politics of the left."

RELATED: NY Times Buries The Lede: Anderson Cooper's Ratings Surge At 8PM
Co-host Steve Doocy asked Perino about a column in the New York Times editorial section by Ross Douthat, "Winning the News Cycle, but Losing the Race." In the column, Douthat argues that the Democrats have engaged in a strategy that elevates divisive social issues, like contraception or gay marriage, for a few hours or a few weeks. Most of those skirmishes are won on Democratic terms, but the key pocketbook issues go unaddressed, and that is the key issue that will move most independent voters to support one or the other candidate in the fall.
"Historically, he suggests, the Republican party has run on social issues," said Doocy. "And right now, the President's party is kind of doing that. But really, if they want to win, get back to the big question of how Mitt Romney will take away your entitlements."
Perino praised Douthat for his "keen insight."
All of these things that the campaign has come up with on the Democratic side have lasted, sometimes 48-hours and sometimes a full two weeks – you think of the contraception controversy. And then there is another one – one on top of the other. But still, the most important thing to every voter is the economy. So, really, on the Democrat side – you might win the little skirmishes, but what you want to do is win the war.
"How ironic that it's the Democrats now that are bringing social issues to the forefront," said co-host Gretchen Carlson.
"That's how they won before," said Perino. "They want to draw Republicans out on these social issues. Which the Republicans will gladly discuss, but that doesn't mean they're going to take their eye off the most important thing which is this underlying anxiety about our fiscal situation on all levels."
Co-Host Brian Kilmeade asked Perino to weigh in on Mitt Romney's two consecutive Rasmussen tracking polls that showed him leading President Obama. Kilmeade suggested that Obama's pro-gay marriage announcement may have contributed to his drop in those tracking polls.
"I think the people who support same-sex marriage were probably going to vote for President Obama anyway," said Perino.
"He was going to do it anyway," said Kilmeade.
"It was a charade," agreed Perino.
There's very few people who are undecided at this point. The crass politics of the left – and, in particular, you see it right through that gay marriage announcement last week. Even though it meant a lot to a lot of people, but then 90 minutes later the fundraising appeal. Within 24-hours, suggesting Mitt Romney is backwards on equality, when President Obama had the same position 24-hours before. This is exceedingly political, and people see it, they notice it and I think they're thinking, 'do we want four more years of that, or do we need to change direction on the economy.
Watch the segment below via Fox News Channel:
Have a tip we should know? tips@mediaite.com