David Axelrod Denies Obama Is 'Typical Politician': Goal Isn't Staying In Power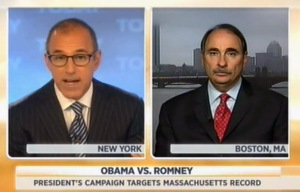 On Thursday morning, David Axelrod, a senior adviser to President Barack Obama's re-election campaign, spoke to Matt Lauer on The Today Show. Lauer pressed him on the possible lack of enthusiasm for Obama and the negative tone on the campaign trail. Axelrod kept up appearances, pivoting to talk of the economy and Mitt Romney's record in Massachusetts.
Asked about the close polling in battleground states, Axelrod replied, we call them battleground states for a reason. He added, "When there's a Republican nominee, Republicans and Republican-leaning independents consolidate behind that nominee, and we have the race we expected." What's more interesting, he said, is the polling in Romney's home state of Massachusetts, where he's losing by 25 points. "That does speak to sort of how people view him and his record here in this state," Axelrod said.
Lauer pointed to those highlighting a lack of enthusiasm surrounding Obama, those who see him four years later and "fear that he is beginning to sound like a typical politician."
"Not at all," Axelrod said, pivoting back the economy. Lauer pressed further, again pointing to the negativity we've been seeing from Obama on the campaign trail, quoting a New York magazine piece that characterized Obama as "not a savior, not a saint," but a "brass-knuckled, pipe-hitting" brawler determined to do whatever necessary to stay in power — "in other words, a politician."
Axelrod refuted this, saying Obama's goal is not staying in power. His goal, Axelrod said predictably, is advancing an agenda that will move the country forward. Romney has been misrepresenting Obama's record and they have a responsibility to set that straight, he said. Or, in Lauer's words: "They did it first, and you're firing back."
People need to know the facts, Axelrod responded. Drawing from campaign talking points, he added, Romney offers himself as an "economic guru and savior" — but his record of governor says otherwise.
Take a look, via NBC:

Have a tip we should know? tips@mediaite.com