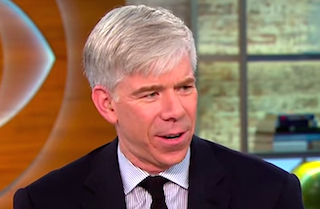 Since he was unceremoniously ousted by NBC News from his role as moderator of Meet the Press more than a year ago, David Gregory has all but disappeared from the limelight. But with a new book titled How's Your Faith?: An Unlikely Spiritual Journey
out next week, Gregory returned to television Wednesday morning. But it was in unfamiliar surroundings.
"What's this eye over my shoulder? Where am I?" Gregory joked at the top of an interview with the hosts of CBS This Morning.
Before getting too deep into his spiritual awakening, the CBS hosts made sure to grill Gregory about his departure from NBC, something he has said little about since it happened last August. "It was unpleasant," he said. "Things happen in television news, we know that. It's a tough business." While he said he doesn't want to "revisit" that time in his career, Gregory said the whole thing was "handled in a way that was unnecessary." He also admitted that if he had treated his colleagues better, they might be "been rooting" for him to succeed a little more.
"As much as I miss the work… I don't miss NBC," Gregory added. "I don't miss being there. It was just the wrong atmosphere for me."
Gregory even recounted the story of how he found out he'd been fired via Twitter. "NBC was concerned that if they let me have a last show to thank the audience I was going to somehow go after them," he said, referring to the so-called "Ann Curry moment" that happened when that Today show host was let go and broke down crying on air. "That was never going to happen," he insisted.
Watch video below, via CBS:
[Photo via screengrab]
— —
>> Follow Matt Wilstein (@TheMattWilstein) on Twitter
Have a tip we should know? [email protected]