Democratic Senator Says Gun Owners Will Like Expanded Background Check Bill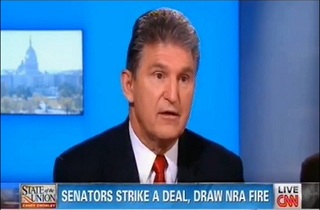 West Virginia Senator Joe Manchin and Pennsylvania Senator Pat Toomey tried to sell gun owners on their expanded background check legislation on CNN's State Of The Union this morning. Both said their new law will not impact law abiding citizens and does not infringe on the Second Amendment.
Toomey said their legislation wasn't about restricting and infringing on the constitutional rights of law abiding Americans. "This is about whether or not it's reasonable to try to make it more difficult for dangerous people for whom it's already illegal for them to have weapons, to obtain them," said Toomey.
The legislation the two of them are advancing a compromise amendment to new gun legislation that requires gun sellers to run background checks on all sales no matter where they take place, including at gun shows and online. There are exemptions for gun transfers that are gifts between friends and family. Their legislation says nothing about an assault weapons ban or high capacity magazines.
Their compromise legislation is seen by some gun control advocates as having the chance of getting through the House and Senate. The NRA and other gun rights supporters are staunchly opposed to the Toomey-Manchin amendment. Manchin has brushed off some of the criticism.
Describing himself as somebody that comes from "gun culture", Manchin said this is a bill that gun owners should be okay with. "If you're a law-abiding gun owner, you're going to like this bill," Manchin said, noting that both of them are NRA members.
Watch clip below via CNN

Have a tip we should know? tips@mediaite.com