Dennis Rodman 'Won't Apologize' For 'My Friend' Kim Jong Un's Murderous Regime: 'We Do The Same Thing Here'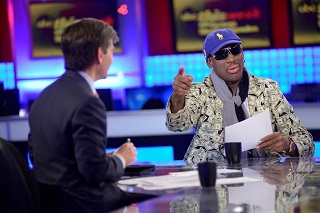 Former NBA start Dennis Rodman stood by his controversial trip to North Korea and remarks about its dictator Kim Jong-Un on ABC's This Week with George Stephanopoulos. Rodman downplayed his trip that some are calling "basketball diplomacy" saying that he is not a diplomat while brushing aside allegations about North Korean death camps by saying "we do the same thing here."
Rodman, wearing sunglasses indoors and dressed in a money jacket and blue polo baseball cap, said he did not talk about politics with Kim, sticking to basketball and having a good time with the North Korean dictator.
Stephanopoulos challenged Rodman repeatedly on his travel to North Korea and its atrocious human rights record but Rodman wasn't having it.
"I don't condone that. I hate the fact that he's doing that. I didn't talk about that. I saw people respected him, his family. He's only 28. He's not his dad. He's not his grandpa. He is 28 years old. He's very humble. He's a very humble man. He don't want war, that's one thing he don't want. He loves power. He loves control, because of his father, you know, stuff like that. But he's just…he's a great guy. He's just a great guy. You sit down and talk to him," said Rodman.
When Stephanopoulos went after Rodman on not talking about North Korean death camps he said, "We do the same things here."
A dumbfounded Stephanopoulos replied, "We have prison camps here in the United States?"
"This is all politics right? He don't want to do that," said Rodman.
"It sounds like you're apologizing for him?" said Stephanopoulos.
"No, I'm not apologizing for him. He was a great guy to me. He was my friend. I don't condone what he does. But as a person to person, he's my friend. What I did was history. He's a friend to me. That's about it," said Rodman.
Before leaving Stephanopoulos handed him a human rights report on North Korea. Rodman thanked him for the report and left the show saying, "Don't hate me."
Watch below via ABC
Have a tip we should know? tips@mediaite.com