Donald Trump Ditches Teleprompter at CPAC, Goes Off on Obama, the Chinese, and Immigration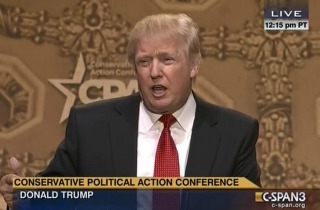 Real estate developer and reality television host Donald Trump delivered a long and wide-ranging address to the attendees of the Conservative Political Action Conference on Thursday. Speaking without a teleprompter, he went on an extemporaneous rant about President Barack Obama, his fellow Republicans, the Chinese, immigration reform, entitlement reform, and the national debt.
Trump began by offering a veiled criticism of his fellow CPAC speakers, saying that he refused to use a teleprompter because most of the other speakers were using speaking aids. He went on to talk about some of the properties he is renovating and the celebrities he has recently spoken with.
Trump then pivoted to the threat posed by the national debt. "How do you pay off 17 trillion," he asked. "Nobody ever heard the expression a number of years ago – the word 'trillion.'"
"China, which I've been talking about for the last five years, yesterday – right in our face – they just devalued our currency," Trump said. "What they're really saying is, 'We're really ripping you big league. Nobody's ever done it better than us, but now we're going to really do it again.'" He said that China can "get away" with this behavior because America's leadership is "weak" and "pathetic."
"They have no respect for our leader and, frankly, they have no respect any longer for our great country," Trump asserted.
He went on to critique the administration's "phony" jobs statistics, saying that they were calculated in such a way to suggest the unemployment rate is lower than it is in reality.
"We're getting into Jimmy Carter territory," Trump said of Obama's polls. "I think, maybe, by next month we will have surpassed the late, great Jimmy Carter."
"Conservative Republicans, we're going to take the Senate," he predicted. Trump added that the 2016 race against likely Democratic nominee Hillary Clinton would be winnable because the Affordable Care Act will be even more unpopular than it is today.
"Whoever's president, good luck," he continued. He said that analysts he is reading are predicting "economic catastrophe" for 2016 – 2018.
Moving to foreign policy, Trump insisted that American schools and infrastructure cannot be built at home "because we don't have any money, because we're spending it in other places where, frankly, they don't want us and I don't want them."
Trump added that China, which he does not dislike personally, cannot get enough Trump. "My apartments, my ties, they love me," he said. "I've got the largest bank in the world from China – Chinese bank – largest in the world, biggest bank in China, is my tenant."
"Obamacare has to be changed," he went on. "Immigration – we're either a country, or we're not. We either have borders or we don't."
In closing, he said he did not appreciate Republican plans, specifically those of Rep. Paul Ryan (R-WI), to reform the structure of the major entitlements. He said that he would prefer that the United States be rich enough to continue to meet those growing legacy obligations in perpetuity.
Watch the speech below via C-SPAN 3:
[Photo via screen grab ]
— —
> >Follow Noah Rothman (@NoahCRothman) on Twitter
Have a tip we should know? tips@mediaite.com