Donald Trump Piles It On: Now Claims He Gave Gaddafi Tent Rent Money To Charity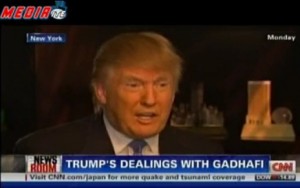 Possible 2012 Republican presidential candidate Donald Trump has doubled down on his revisionist claim that he "screwed" Libyan dictator Muammar Gaddafi in 2009 when the embattled despot tried to pitch a tent on one of Trump's properties in New York. Now, he's telling CNN that his plan, all along, was to rook Gaddafi out of a small fortune, and give the money to charity. Unfortunately, Trump's story is so full of holes, he could build several golf courses on it.

Without even doing any checking, Trump's story reeks like a boardwalk Port-O-John, as he's put on the spot by CNN's Poppy Harlow. She asks if he still has the money, to which he replies "Do I still have it? what does that mean?"
When she asks Trump if he gave the Gaddafi money to charity, his first response is "I give tremendous, in fact, the other night, Comedy Central roasted me, they gave me a tremendous amount of money, it's already gone to charity. So, I give money to charity. I gave that money to charity."
Yeah, that's the ticket!
Then, he reveals the grand plan, saying, "And in fact, I said, when I did it, I'm gonna take Gaddafi's money, I'm not gonna make it easy on him, and I'm going to give the money to charity."
Here's the clip, from CNN:
Trump may, or may not, have given the money to charity at some point, but unless he was lying in 2009, there's no way it happened the way he says it did. When news first surfaced that Gaddafi planned to pitch a tent (there's an image worthy of ocular self-immolation) on Trump's property, Trump didn't know anything about it. In fact, based on his statements at the time, it doesn't even appear that he got any money from Gaddafi, who was subleasing from Trump associates: (From Fox News)
The Trump Organization said Qaddafi would not be coming to Trump's estate and insisted that Trump has not rented property to him. But it said part of the estate "was leased on a short-term basis to Middle Eastern partners, who may or may not have a relationship to Mr. Qaddafi. We are looking into the matter."
Also from Fox News:
Trump said earlier Thursday that he had "no idea" that Qaddafi might be involved in a deal to rent a section of Trump's estate, a town official said.

Bedford Town Supervisor Lee Roberts said Trump told her Wednesday that as far as he knew, his arrangement was with partners in the United Arab Emirates and he was unaware of a Qaddafi connection.
So, Trump couldn't have planned to take Gaddafi's money, let alone give it to charity, because he had no idea Gaddafi was the one subleasing the property.
Even Trump's claim that he "screwed" Gaddafi by "not letting him use" the property craps out when you realize it was the local government who ordered Trump to evict Gaddafi's tent:
"At 2:30 p.m. yesterday, I spoke to Trump and told him that if they did not dismantle the tent, we would commence criminal prosecution," he said. "And the only party we could name as a defendant would be the Trump Organization."
The irony is that the original controversy was a tent-pest in a teacup, and Trump probably didn't deserve the negative press he got. Had the town not gotten involved, and Gaddafi had stayed on the estate, Trump could hardly have been blamed for honoring a legal contract with an intermediary.
But for Trump to try and take credit for something he didn't do is beyond ridiculous, and his claim that he gave the money to charity at all is highly suspect. This is the first he's mentioned it, and in the days following the initial controversy, he not only didn't reveal the disposition of the money, he actually tried to leverage the publicity to line his pockets some more:
The tent erected for the use of Libyan leader Moammar Gadhafi on Donald Trump's Bedford, N.Y., property last week prompted national headlines, neighborhood outrage and a criminal summons.

But Mr. Trump sees a silver lining. "It's the best piece of property in New York," the mogul said in an interview. "Most people never even knew I owned it and now they do."

The property in question, Seven Springs, is set to stay in the headlines. Last week, Mr. Trump filed a $30 million complaint against the Nature Conservancy and two neighbors, alleging they were depressing his property's value by denying him the use of a closed road needed to provide access to a proposed 15-home luxury development on the 213-acre property.
While Harlow did a good job asking the charity question at all, she should have followed up by getting some details about the donation, and the organization to which it went. I've asked Trump's spokesperson for that information, but they have not responded, as yet.
Have a tip we should know? tips@mediaite.com