Fox and Friends Plays Montage of Trump Saying Russia Meddled (Trump: But Maybe it Was China Though)
On Thursday, Fox and Friends played a montage clip showing President Donald Trump talking about Russia's meddling in American affairs on many separate occasions as push back against media reports that he denied Russian meddling which blanketed major news outlets after President Trump denied Russian meddling on camera while standing next to Vladimir Putin (and again on Wednesday.)
"Yesterday, the president once again reaffirmed his commitment to combat Russian meddling," said co-host Steve Doocy introducing both a clip from Trump's interview Wednesday night with CBS, and the premise that the President has been all over this all along.
In the clip, the President says that he agrees with the intel consensus that Russia meddled in the 2016 election, and added that he has said many times before.
"The president once and for all wants to put an end to the thought that he does not believe that Vladimir Putin and Russia meddled in the elections," said Brian Kilmeade after the clip. Kilmeade also highlighted the New York Times story in today's edition which revealed the President was briefed that Putin was personally responsible for the meddling, and that the President "grudgingly" accepted that as accurate. That was when Ainsley Earhart introduced the montage.
"Well the president has called out numerous times Vladimir Putin for meddling in the election and, Russia," she said. "Listen to this." Then the clips played, showing Trump saying:
"As far as hacking I think it was Russia. But I think we also get hacked by other countries and other people. And I can say that you know, when, when we lost 22 million names and everything else that was hacked recently, they didn't make a big deal out of that. That was something that was extraordinary. That was probably China. We had much hacking going on."
"Well I think it was Russia and I think it could have been other people in other countries, could have been a lot of people that interfered."
"I think it was Russia. But I think it was probably other people and/or countries."
"It was Russia. And I think it was probably others also."
"The Russians had no impact on our votes whatsoever, but, certainly, there was meddling and probably there was meddling from other countries and maybe other individuals."
"So, as you can see right there he has said a number of times he thought it was Russia and he thought they were meddling," concluded Doocy without mentioning China or people in other countries or that it could have been other people or a lot of people or other individuals.
The President was watching, though, and brought it up on Twitter.
"Trump recognized Russian Meddling MANY TIMES." Thank you to @foxandfriends and @FoxNews for actually showing the clips. The Fake News wants no part of that narrative! Too bad they don't want to focus on all of the ECONOMIC and JOBS records being set.

— Donald J. Trump (@realDonaldTrump) July 19, 2018
No one mentioned whether the president's previous remarks about their meddling were among the "foolish" things America has done to ruin relations with Russia.
Watch the clip above, courtesy of Fox News.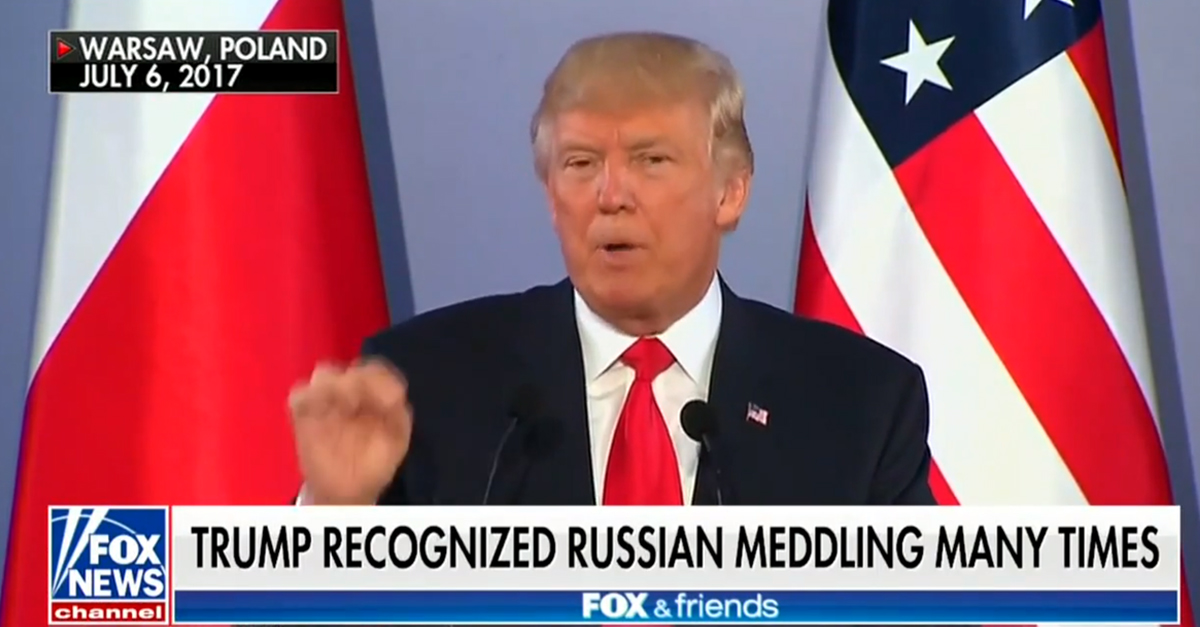 [Featured image via screengrab]
—
Follow Caleb Howe (@CalebHowe) on Twitter
Have a tip we should know? tips@mediaite.com