Fox Legal Analyst Calls Himself 'Constitutional Geek', Proceeds to Misidentify Author of Constitution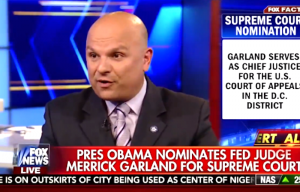 There's nothing like a good ol' "Constitutional and Supreme Court geek" like Arthur Aidala to completely butcher the author of the Constitution. And that description isn't one that we've given him — it's a direct quote that Aidala himself said just moments before declaring that Thomas Jefferson was the chief architect of the most important and contentious document in our nation's history.
Speaking with Fox News' Gretchen Carlson, Aidala — a former prosecutor and defense attorney who is currently President of the Brooklyn Bar Association — discussed the background of the newly-nominated Merrick Garland.
"His qualifications are pretty superior," Aidala admitted, detailing Garland's history at Harvard and his legal achievements with prosecutorial experience.
"Everyone's trying to read the tea leaves right now," he admitted to Carlson. "The analogy I make for us Constitutional/Supreme Court geeks is it's almost like your bracket in the Final Four kind of thing (sic), trying to figure things out, looking at things," he continued invoking a laugh from Carlson. "The overwhelming verdict is that he's a really nice guy."
This "geek" of the United States Constitution apparently learned everything except for who the author of that document was — James Madison — as he continued to describe the original intention versus today's interpretation regarding the Republican-controlled Senate not voting on the Garland nomination. "That's not really what the Constitution was meant to say," he offered. "I don't think that's what Thomas Jefferson was thinking. He was thinking: when there's a vacancy, someone has to fill it."
Carlson abruptly moved the conversation along and ended the segment, either because Aidala had just identified the wrong Virginia slave-owning founding father as the author of the Constitution, or because the talking point that the Senate is Constitutionally bound to vote on Garland is just too inconvenient.
Check out the above segment via Fox News.
[image via screengrab]
Have a tip we should know? tips@mediaite.com