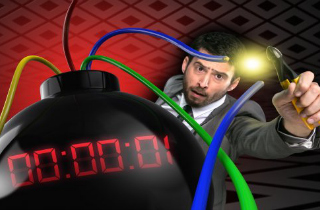 In a new low for the game show format, Fox recently gave a series order to the Israeli trivia program Boom! The television show pits four-player "squads" against eight replica bombs that are defused by correct responses to trivia questions.
What if the "bomb" is not defused in time, you ask? The device explodes, a member of the squad is eliminated, and the studio shakes.

Hmm… I'll take "Shows That Lasted One Season" for $300, Alex.
Now, if you were wondering how Fox's brain trust would promote Boom!, I guarantee you didn't see this pitch coming: "It's as if Jack Bauer made brain love with Jeff Foxworthy," Fox's EVP alternative Simon Andreae said, in a sound bite that is, umm… something.
Of course, Boom!'s enjoying popularity in Israel is equally disturbing. But seeing as it was the highest-rated game show launch in the history of Keshet Broadcasting, it's no surprise that Fox is banking on its American viewers to not be smarter than a fifth grader. By channeling 24 in its initial pitch, Fox makes clear the audience it seeks: The kind that enjoys a good bit of torture porn.
Speaking of torture, how exactly did Jack Bauer (Kiefer Sutherland's 24 character, for those not in the know) and Jeff Foxworthy's brains make love? I can only imagine the following fusion took place in real time between the hours of 2:00 a.m. – 3:00 a.m. at a Fox studio office, where lazy executives threw darts at a ratings board before tomorrow's pitch meeting.
With the clock winding down, they hit "You might be a redneck if…" alongside "Don't Forget, America Loves Torture" and called it a night.
Voila — Boom! was born.
[Image via Keshet International]
— —
>> Clark Young is, above all things, a Mainer and Red Sox fan. Follow him on Twitter here.
Have a tip we should know? [email protected]