Fox's Eric Bolling On Pakistan: 'Maybe It's Time To Send A Drone Or Two Right Over The Embassy'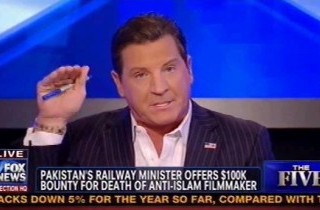 On today's edition of Fox News' The Five co-host Eric Bolling made a not-so-veiled threat of coercion against Pakistan, remarking that perhaps it's time America cuts off all foreign aid to the country and send a few drones over their embassy — presumably to scare them.
Bolling brought up the country when discussing the news that a Pakistani minister reportedly offered a $100,000 bounty to find the filmmaker behind Innocence of Muslims, asking "Where is the outrage from the State Department about this?"
Co-host Dana Perino chimed in that "If I were President Obama, I would cancel my appointment on The View or cancel my dinner plans and demand to see the Pakistani prime minister and said to him at the U.N.: 'Knock it off now.'"
Liberal co-host Bob Beckel noted that "this is not surprising" because it's the same Pakistani minister who allows terrorism to be taught in Islamist schools. However, he defended the State Department, saying that if the reports are true that there were 100 armed men attacking the U.S. consulate in Benghazi, "no amount of normal marine security would have stopped that." Kimberly Guilfoyle then suggested that State was effectively "complicit" in the assault because of its failure to properly arm and secure the consulate.
Concluding the discussion, however, Bolling brought it back around to Pakistan, lamenting: "$23 billion we have given Pakistan since 9/11. Maybe it's time to cut off the aid and maybe send a drone or two over the embassy."
Watch below, via Fox News:
— —
>> Follow Andrew Kirell (@AndrewKirell) on Twitter
Have a tip we should know? tips@mediaite.com