GOP Sen. Trashes Eric Holder's 'Ruined' Credibility: 'Worst Vote I Ever Took' Was To Confirm Him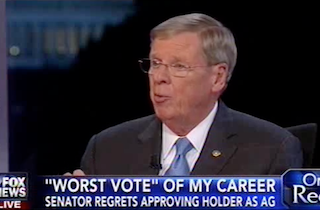 Sen. Johnny Isakson (R-GA) had strong words for Attorney General Eric Holder on Monday as he conceded that he was wrong about Holder — and choosing to confirm his nomination was "the worst vote" he ever took in the U.S. Senate. Isakson appeared on Greta Van Susteren's show to explain (and double down on) his comments. Holder's credibility is shot, he argued.
"The worst vote I ever took in the United States Senate was to confirm Eric Holder," Isakson said on Laura Ingraham's show — and later reiterated during Van Susteren's interview. "And the best letter I ever wrote was the letter asking him to resign after Fast and Furious last year."
"I did my due diligence," Isakson explained on Fox News. "Turns out I was wrong and everything that's happened since then has proven I was wrong. Any time I'm wrong, I like to admit it — just like Eric Holder ought to do in terms of investigations of the press. He made two inconsistent statements about the press."
It "ruined his credibility."
On the other hand, Van Susteren asked whether Isakson liked anything about Holder. The senator praised Holder as a person and said he likes him — but that he "has just not proven himself to be worthy, in my judgment, of representing the president of the United States and you or me and the American people as attorney general."
Why did Isakson vote to confirm him in the first place? He said he had a phone conversation with him during which they discussed the Second Amendment and some investigations, but that he now realized he was proven wrong about the attorney general.
While there aren't yet any "winks and nods" from Democrats who want Holder out, Isakson posited "they may be coming."
Take a look, via Fox News:

Have a tip we should know? tips@mediaite.com