Gov. Deval Patrick Blocks Elizabeth Warren At Press Conference, Answers Question On Heritage For Her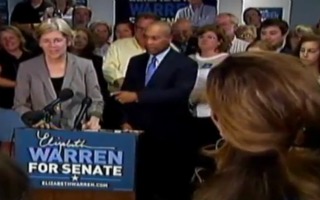 A local Massachusetts reporter attempting to ask Democratic Senate candidate Elizabeth Warren about the controversy surrounding her claims to Native American heritage was interrupted by a hostile crowd and blocked by Massachusetts Democratic Gov. Deval Patrick. Patrick, who announced his endorsement for Warren before Massachusetts' Democratic primary, answered the question for the Harvard Professor and told her "we don't care about that subject."

RELATED: Fox Panel Descends On 'Pocafibber' Elizabeth Warren After She's Confronted Over Minority Claim
Local Fox 25 Massachusetts broadcast a segment in their May 30 newscast about Bay State Gov. Patrick's endorsement of Warren in her bid to become the Democratic party's nominee to face Republican Sen. Scott Brown in the fall.
Fox 25 reporter Sharman Sacchetti said she asked Warren about questions raised "about her character" in the wake of a scandal involving Warren's claim to having Native American ancestry. Sacchetti reported that when she tried to ask about it, she was blocked by Gov. Patrick.
"She has faced some criticism, even from some Democrats who say she should have put this issue to rest and should have done it weeks ago," said Sacchetti. "Well today, the Governor stepped in, spoke for her and the crowd booed me."
Sacchetti said this is the second time she has attempted to ask Warren about her claims regarding her background. "Last week Warren stonewalled me when I asked her about it, so I asked again today."
She asked Warren about some who are calling her "character" and "authenticity" into question relating to her background. At that point, Patrick interrupted Warren and answered for her.
"Governor, I asked her," said Sacchetti
"You don't mind, do you," replied Patrick.
"Governor, I never mind," Sacchetti said.
"Well, even if you do I'm here," said Patrick.
Patrick first addressed a restless crowd that appeared to take offense to Sacchetti's question:
First of all, to the team – respectfully and thanking you again for your service – the question is okay. So don't – we have to project what we want in political discourse, right? And that means even when we don't like the question, we gotta let it be asked.
Patrick went on to answer Sacchetti's question, saying essentially that the matter is inconsequential:
Second, let me say on behalf of the people of the Commonwealth, we don't care about that subject. What we care about – what we care about is investing in education, in innovation and in infrastructure because it's a winning strategy. It's a growth strategy. It's an opportunity strategy here at home, and we need a partner in Washington to help us do that.
Sacchetti followed up and asked Warren if she could respond, to which Warren said "I defer to the Governor on this one."
Warren continued, "I know why I got in this race; I got in this race because families are getting hammered. I got in this race because…"
"So you're not answering, basically," interrupted Sacchetti.
"No, you just don't like the answer," said Warren.
"It's not an answer," said Sacchetti.
Warren continued to say why she entered the race for Massachusetts Senate, but did not address Sacchetti's question.
UPDATE: Elizabeth Warren sent a letter to supporters today which was published in whole by the Boston Globe. She writes, in part, "My Native American heritage is part of who I am, I'm proud of it and I have been open about it."
Growing up, my mother and my grandparents and my aunts and uncles often talked about our family's Native American heritage. As a kid, I never thought to ask them for documentation – what kid would? – but that doesn't change the fact that it is a part of who I am and part of my family heritage.

The people involved in recruiting and hiring me for my teaching jobs, including Charles Fried – solicitor-general under Ronald Reagan who has publicly said he voted for Scott Brown in 2010 – have said unequivocally they were not aware of my heritage and that it played no role in my hiring. Public documents that reporters have examined also show I did not benefit from my heritage when applying to college or law school. As I have confirmed before, I let people know about my Native American heritage in a national directory of law school personnel. At some point after I was hired by them, I also provided that information to the University of Pennsylvania and Harvard. My Native American heritage is part of who I am, I'm proud of it and I have been open about it.

The people of Massachusetts are concerned about their jobs, the future for their kids, and the security of retirement. It's past time we moved on to the important issues facing middle class families in Massachusetts.
Watch the press conference below via Fox 25 Massachusetts:
Have a tip we should know? [email protected]