Greenwald Blasts CNN on CNN: Anchors Get Away With 'Despicable' Anti-Muslim Comments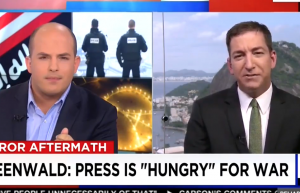 Glenn Greenwald spent most of his CNN interview this morning going after CNN for their terrorism coverage and the suspension of Elise Labott for a tweet about a GOP-backed refugee bill.
On Reliable Sources, Brian Stelter asked Greenwald about his criticism of the media's hunger for war in the wake of the Paris attacks. Greenwald said, "I think that CNN has unfortunately led the way on this."
He said that CNN keeps bringing on former CIA officials who make verifiably false claims about American intelligence, and brought up the "despicable" interview of a Muslim guest last week by two CNN anchors.
In that interview, both anchors confronted their guest on Muslim "responsibility" in the wake of terrorist attacks. Stelter pushed back a bit and said Greenwald was "cherry-picking."
Greenwald, however, was nowhere near done criticizing CNN. He said there's been "zero pushback" against the aforementioned CIA guests and brought up Labott by comparing her to Jim Acosta "pushing the president towards war in Syria" with his question about ISIS "bastards."
"This is the kind of opinionating that comes from CNN all the time," he said, adding "You're allowed to demonize Muslims."
He argued that "repugnant opinions" about Muslims are expressed by anchors on CNN and they're never punished. Stelter said, "I personally haven't heard anti-Muslim rhetoric on this network in the way you're describing."
You should really just watch the whole thing above, via CNN.
[image via screengrab]
— —
Follow Josh Feldman on Twitter: @feldmaniac
Have a tip we should know? tips@mediaite.com
Josh Feldman - Senior Editor