Hannity and Tucker Most-Watched Cable News Programs in February, Maddow Places Third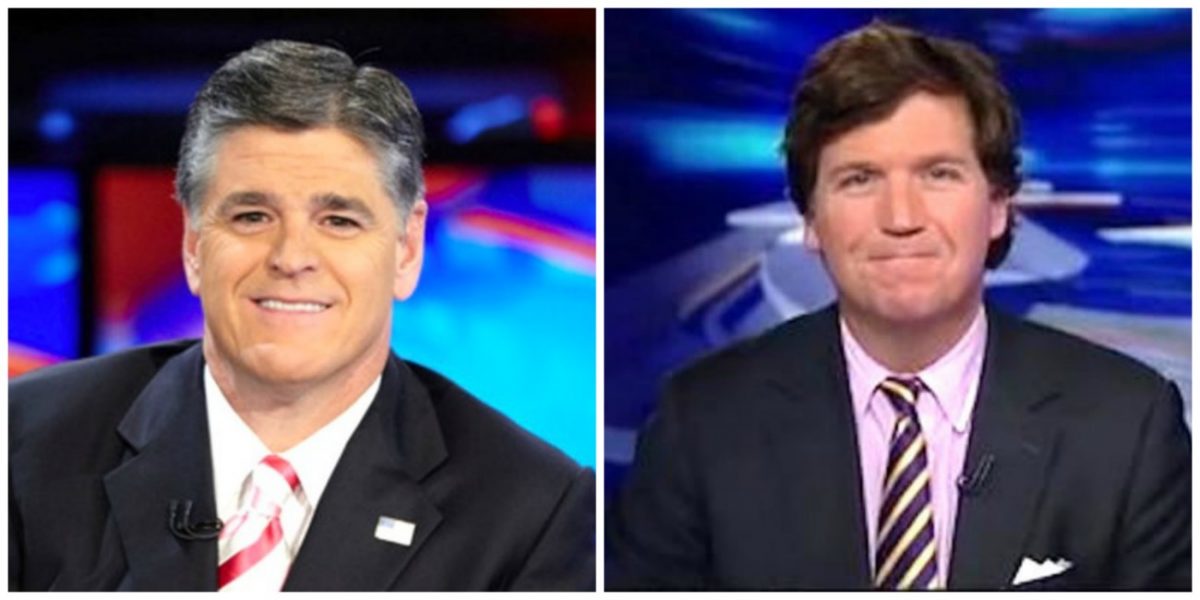 For the fifth straight month, Fox News' Hannity was the most-watched program in overall viewers on cable news, ranking number one in both total viewership and the key 25-54 demographic for February. This came during a month in which Fox News led across the board in total day and primetime viewership. Meanwhile, both MSNBC and CNN had their own highlights to tout for the month.
In the primetime 8 PM to 11 PM slot (including Saturday and Sunday), Fox News averaged 2.766 million total viewers and 576,000 in the demo, according to Nielsen. MSNBC placed second in both metrics, pulling in an overall audience of 1.805 million and 397,000 demo viewers. CNN captured a total viewership of 979,000 and 357,000 in the demographic.
As for total day, Fox News grabbed 1.548 million total viewers and 330,000 in the key demo. This marked the 20th straight month Fox News topped all of basic cable in total day viewership. MSNBC finished second in total viewership (989,000) and third in the 25-54 demographic (216,000). CNN averaged 700,000 overall viewers and 230,000 in the demo.
One thing to note here is that while both CNN and Fox News showed some slight declines in viewership across the board compared to February 2017 — understandable as that represented President Trump's first full month in office — MSNBC experienced gains year-to-year. In total day, MSNBC was up 23 percent in overall viewership and 15 percent in the demo. For Monday – Sunday primetime, MSNBC showed year-to-year gains of 21 percent in total viewers and 15 percent in the demographic.
Hannity was the big winner in terms of individual programs, drawing 3.333 million total viewers and 711,000 in the 25-54 audience. Fox News' 8 PM show, Tucker Carlson Tonight, placed second overall in both the demo (650,000) and total viewership (3.144 million). Hannity's 9 PM MSNBC competitor, The Rachel Maddow Show, came in third in both metrics, attracting 2.874 million overall viewers and 641,000 in the demographic. In January, Maddow topped the demo and finished second in total viewers.
CNN's latest Original Series, The Radical Story of Patty Hearst, wrapped up its six-episode run in February and led cable news in the demo for its 9 PM to 11 PM Sunday time slot. CNN ended the month as the eighth-ranked basic cable station in overall viewers for total day.
Fox News's newest series, Life, Liberty & Levin, debuted this past Sunday and led its 10 PM time slot in both total viewers (1.413 million) and the demo (309,000), ticking ahead of Patty Hearst (306,000) in the demographic.
For the cable business channels, February was an interesting month as the market experienced some wild swings. With the Dow Jones hitting historic thousand-plus point drops, Fox Business averaged 246,000 total viewers and 32,000 in the demo during the business day hours. CNBC, meanwhile, captured an overall audience of 212,000 while ticking ahead of FBN in the demographic (37,000).
[image via Fox News]
—
Follow Justin Baragona on Twitter: @justinbaragona
Have a tip we should know? tips@mediaite.com