Here's Fox's Gregg Jarrett Displaying the 'Maturity' He Says Don Lemon Lacks
Christopher: Here's Fox's Gregg Jarrett Displaying the 'Maturity' He Says Don Lemon Lacks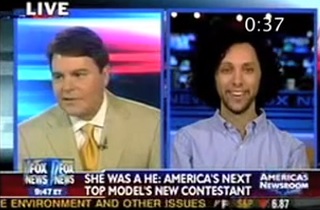 As part of the ongoing feud between Fox News anchor and consonant-hoarder Gregg Jarrett and CNN anchor Don Lemon over Lemon's audacious expression of an opinion on the Michael Dunn trial, Jarrett advised Lemon to gain "a measure of maturity." As luck would have it, we have a helpful video demonstration of the maturity that Jarrett references, starring one Gregg Jarrett.
In case you missed it, Don Lemon told CNN's audience that he was "pissed" at the Michael Dunn jury's inability to render a verdict on the charge of first degree murder in the killing of Jordan Davis, as they were still deliberating. Gregg Jarrett fired off a series of critical tweets at Lemon, and later explained to Megyn Kelly the role of a news anchor, which is apparently to accuse other news anchors of trying to inciting riots. Lemon tweeted at Jarrett to "Mind your business, old man," and Jarrett went on the radio to agree that Lemon was using racial code words, while also accusing Lemon of being "racially agitated."
Jarrett also used that radio appearance to explain that Lemon "could use a measure of maturity," a useful bit of advice that Jarrett demonstrates ably here:
That video was a response, by Nancy Nangeroni, co-chair of the Massachusetts Transgender Political Coalition, to Jarrett's broadcast on America's Next Top Model contestant Isis King. Here's GLAAD's description of the segment:
On August 14, Fox News Channel aired a crude and obnoxious segment concerning the recent announcement of America's Next Top Model's first-ever transgender contestant. Isis, who will begin appearing on the new cycle of the popular CW program when it premieres on September 3, was interviewed exclusively in the current issue of Us Weekly.

Fox News anchor Gregg Jarrett and Us Weekly Editor-at-Large Ian Drew spent the segment gratuitously insulting the America's Next Top Model contestant, using dehumanizing terminology, inaccurate and inappropriate pronouns and offensive references to her anatomy.

While laughing and joking, Jarrett mocked Isis' description of herself as a woman whose "cards were dealt differently," and said, "That's an understatement!" Drew referred to recent instances of transgender visibility on reality television as "The Crying Game '08," going on to call the show "America's Next Top Tranny." Drew then said that she doesn't look any different from other contestants because "they are not exactly the most high-class group of women." Throughout the segment, Jarrett switched back and forth between male and female pronouns, and both Jarrett and Drew suggested that Isis "fooled" people by "blending in." They went on to make crude remarks about her genitalia and the pitch of her voice.
As you can see from the first video, Jarrett did apologize — and what the hell, it was way back in 2008, right? Here's an older and wiser Gregg Jarrett a few months ago, telling Fox News viewers that Chelsea Manning is not the boss of him:
Have a tip we should know? tips@mediaite.com