In Touch Hits Back at Duggars: Releasing Records Was Legal, and BTW, You Lied a Lot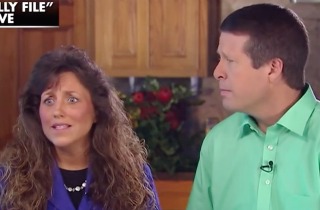 In Touch Magazine, the outlet that broke the story about Josh Duggar's prior molestation charges, released an extensive report today rebutting many of the claims his parents made during their poorly-received interview with Megyn Kelly.
All told, In Touch found seven contradictions made by Jim Bob and Michelle Duggar, ranging from lies by omission to misleading statements to flat-out lies.

For instance, Jim Bob said that the police officer who took Josh's case — Jim Hutchens, later convicted on child pornography charges — had been randomly assigned. "We didn't know anything about this guy except he was an officer there for the headquarters," he told Kelly.
Hutchens, now serving a 56-year prison sentence, told In Touch otherwise:
He said he knew Jim Bob well from his job and had even taught a couple of classes to car dealerships with him. In addition, Hutchens -– who was not promised anything in return for his interview and told only that it was part of an investigation -– said that Jim Bob specifically sought him out to talk to Josh.

Asked who initially contacted him for the meeting, Hutchens said: "Jim Bob did." He then explained: "He called me by phone – he just said he needed to talk with me about a matter, he didn't explain what he got there." That interview was conducted before Jim Bob's comments were aired.
In Touch also took issue with the Duggars' claims of innocence and persecution, showing evidence that they had the legal right to receive and publish the police report, saying that they were all obtained by perfectly legal Freedom of Information requests, and that, because Josh Duggar was a legal adult when the redacted documents were released, it was fair game to publish them.
They also spoke to legal experts who said that the Duggars had a legal obligation to immediately report Josh's actions, and by not doing so, opened themselves up to possible felony charges for child endangerment. "Having once learned of the behavior, they recklessly allowed it to continue," Arkansas lawyer and former U.S. Attorney Michael Johnson told In Touch. "This crime is a class D felony because the abuse consisted of sexual contact with a minor. The maximum penalty for permitting this type of abuse under Arkansas Code 5-4-401 is six years imprisonment and a $10,000 fine."
Damningly, In Touch revealed that while they claimed that they'd cooperated fully with the police, a report they obtained indicates that the Duggars did anything but:
But the Springdale police report, obtained by In Touch through FOIA, reveals that Jim Bob refused to produce Josh for a police-requested interview and stopped cooperating with the probe. "On Tuesday, December 19, 2006 at approximately 1300 hours D. Hignite received a voice mail from Jim Bob Duggar in reference to the interview with [redacted, Josh]. Det. Hignite received a voice mail from Mr. Duggar stating that [redacted, Josh] had hired an attorney and will not be coming in for interview."
[h/t Jezebel]
[Image via screenshot/Fox]
—
>> Follow Tina Nguyen (@Tina_Nguyen) on Twitter
Have a tip we should know? tips@mediaite.com