Joe Walsh Tells Martin Bashir Furor Over 'Wetback' Remark Makes Politicians 'Afraid To Speak'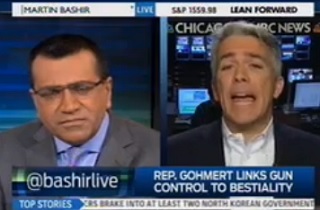 If you've missed former Congressman Joe "I Will Say Your Name Until It Ceases To Have Meaning" Walsh (R-IL) like I have, you're in luck. On Thursday afternoon's Martin Bashir program, the defeated Tea Partier offered up some half-hearted excuses for Rep. Don Young's (R-AK) use of the word "wetbacks" in a recent interview, but said the real problem is with the big freakin' deal everybody made out of it. Walsh has shown a little bit of growth, as Rep. Louie Gohmert's (R-TX) remarks about high-capacity magazines and bestiality were too crazy even for Walsh.
Host Martin Bashir (or "Martin," as Walsh likes to call him 5 times a minute) asked Walsh for his take on Louie Gohmert's remark on high-capacity magazines, in which he said "Why would you draw the line at ten? What's wrong with 9 or 11? And the problem is once you draw that limit, it's kind of like marriage. When you say, it's not a man and a woman anymore, then why not have three men and one woman? Or four women and one man? Or why not, you know, somebody has a love for an animal?"
The remark actually elicited something resembling an astonished laugh from Walsh, who said "Well, Martin, I don't know, martin, how he quite equated those two, Martin. Martin Martin." (Or something like that)
"Well, sorry, Mr. Walsh. just to mention, though, Mr. Gohmert is not alone in making this absurd analogy between gun control and somehow ending up with bestiality," Martin replied.
"Okay," Walsh replied, "and I won't go there because I won't make that analogy."
Things were going so well, but then Martin asked "You don't agree with what Mr. Gohmert says?"
"No, I don't agree, and I've never heard before what Mr. Gohmert said. So I don't even want to comment on it."
Except to say that he doesn't agree with it. That's a comment. But, still, so far, so good.
But I will say this rush toward gun control legislation, just like this rush toward redefining marriage, though eventually maybe the country will move in these directions, I think a lot of Republicans are simply saying, 'Stop and let's think about this.' Is marriage simply about love, Martin, or what about the children? What about the kids?"
So Walsh stops short of saying that high-capacity magazines will lead to gay marriage, which will lead to bestiality, but he thinks same-sex marriage might be bad for children. Unlike, say, high-capacity ammunition magazines.
Intentionally or not, though, Walsh hits on the Republican strategy on every issue they're losing on, a series of steps designed simply to slow things down. When global warming was no longer plausibly deniable, they went to "Well, how do we know what causes it?" and then to "Well, let's slow down and think about whether we can do anything about it," to "Well, who's going to pay for that?" to "No, Mr. Costner, I would not like a sip of your pee-water."
Martin then asked Walsh about Rep. Don Young's "wetback" remark. "We mentioned Congressman Don Young earlier, and his remark calling Latino workers 'wetbacks,'" Martin said. "Now, he apologized after something of an outcry, including criticism from Speaker John Boehner, among others. But you tweeted in response, and I'm quoting, 'The mainstream media has made it so hard to be real and speak from the heart that it's impossible to be human. political correctness is killing this country.' So the freedom to speak racial epithets from the heart, is that what we need in this country?"
"No," Walsh replied, "you know what we need, Martin? We need Republicans and Democrats who aren't afraid to speak."
Walsh went on to say "Martin," a whole bunch more times, "here's what your profession is leading us toward. You are going to get Republicans and Democrats who are afraid to speak on anything except with their political consultant tells them to say because they're so afraid to make a mistake."
He also excused Young's remark because of his age, and accused Martin of "creating this narrative out of this one incident."
This is the Republican Party's problem, in a nutshell. As Martin pointed out, otherwise normal people don't just blurt out "wetbacks" because there's no consultant around to polish them up, and it isn't just this one incident. Hispanic voters got the message loud and clear in the last election, and if people like Joe Walsh keep pretending that all they need is a spit-shine and/or for people to stop getting all hissy when Republicans say "wetbacks," then they're going to have an awfully long trip through the desert. Not that there's anything wrong with that.
Here's the clip, from MSNBC's Martin Bashir:
Follow Tommy Christopher (@TommyXtopher) on Twitter.
Have a tip we should know? tips@mediaite.com