John Dickerson to Reince Priebus: Are You Afraid Trump Might Blame You if He Loses?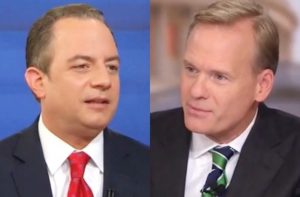 CBS' John Dickerson had Reince Priebus on Face the Nation today, and he asked the Republican National Committee director about what could happen if Donald Trump decides to fly off the handle should he lose the election.
In recent weeks, Trump has claimed that he might lose the presidency because of the system being "rigged" against him, and also because that establishment Republicans haven't done enough to support him. Trump and Priebus have clashed several times throughout the election cycle, and on Sunday, Dickerson asked Priebus about whether he was worried that Trump might blame him if things don't turn out well on Tuesday.
"We've had our own arguments…It's politics. I don't really care," Priebus responded. "What I care about is winning."
Priebus said that people aren't giving Trump enough credit for his voter outreach efforts, and that he is more concerned with making sure Republicans maintain power as a whole through the election.
"I care about keeping the House and Senate and winning the White House. Post Tuesday I'm not worried about that," Priebus continued. "It's a tight race. We will do all we can. We need our voters to get out and vote."
Earlier in the discussion, Dickerson questioned Priebus on whether Trump has helped or hurt GOP outreach towards Hispanic voters. Trump's running mate, Mike Pence, was grilled on a similar matter today, on the question of whether the Trump campaign truly believes that they will get a significant degree of support from Hispanics.
Watch above, via CBS.
[Image via screengrab]
— —
>> Follow Ken Meyer (@KenMeyer91) on Twitter
Have a tip we should know? tips@mediaite.com