Josh Earnest Stresses 'Strength and Resilience of U.S. Economy' After Stocks Dive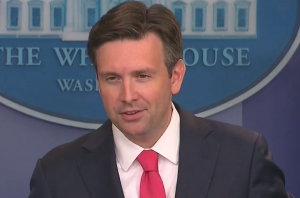 White House press secretary Josh Earnest said in response to the startling stock dive Monday morning that people should take heart in the "ongoing strength and resilience of the U.S. economy."
"What would you say to Americans watching this volatility, the market is going up and down, about how what's happening in China could affect the U.S. economy?" asked a reporter.
Earnest responded that it was true that international markets were all interconnected, and what happens in Asia could affect the United States. "But what I would encourage people to evaluate is the ongoing strength and resilience of the U.S. economy."
"U.S. businesses over the last 65 consecutive months have added 13 million jobs, that's the longest sustained private sector job growth streak in American history," he said. "The unemployment rate here in the United States is at 5.3%, which is the lowest level in seven years."
Earnest added that "the administration, certainly the president, is very mindful of how this would be a particularly bad time for a self-inflicted wound. It's why we make the case to Congress that they need to take care of business… one of Congress' most important responsibilities is to pass a budget."
"Josh, would you say the fundamentals of the economy are strong?" ABC's Jon Karl asked, a throwback to a 2008 John McCain quote that then-candidate Barack Obama cast as out-of-touch in the midst of the financial downturn.
"Well, that's been a phrase that has been used by others in different settings. I think there's no doubt that the U.S. economy is far stronger now than it was in 2008," he responded.
Watch, via CNN.
[Image via screengrab]
——
>>Follow Alex Griswold (@HashtagGriswold) on Twitter
Have a tip we should know? [email protected]