Judge Napolitano: Invoking Executive Privilege Opens Holder Up To Charges Of 'Misleading The Congress'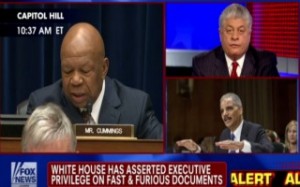 Judge Andrew Napolitano appeared on Fox News Channel's America Live to discuss President Barack Obama's invocation of executive privilege to keep certain documents relating to the Fast and Furious gun walking scandal from being released. "They can't have it both ways," Napolitano said. The administration could argue that Fast and Furious related to national security, which would be covered by executive privilege, but that would open Attorney General Eric Holder to charges he mislead Congress.

RELATED: Obama Invokes Executive Privilege Over 'Fast And Furious' Documents
We may be on the precipice of a constitutional confrontation between the executive branch, the White House, and the Congress. Executive privilege is defined in the leading Supreme Court case, interestingly United States v. Nixon, that's Richard Nixon, that's the Watergate-era. That's the efforts of the special prosecutor to subpoena tapes from President Nixon as protecting conversation with the President himself.

Now the letter that Eric Holder wrote to the President saying 'please give me executive privilege' does not say 'because I discussed this with you Mr. President, but the implication is there. Executive privilege protects communications with the president; the human being of the president – not the people who work for him and the Justice Department.
Fox News anchor Bill Hemmer summarized Napolitano's argument, that he feels that these documents relating to Fast and Furious are not subject to executive privilege, and asked "why would [the White House] seek this?"
Napolitano said that there is something in the documents that Holder is trying to keep secret. "If the Attorney General discussed this with the President, he probably doesn't want the Congress and the public to know that because we know about the awful events that occurred as a result of the Fast and Furious escapade," said Napolitano.
He said that executive privilege only applies to matters of national security and "fighting the drug war," in his opinion, would have to be defined by the administration as falling within the rubric of national security.
"The last time this happened – 40-years-ago in the Nixon Watergate saga, a federal judge ruled against the President and the Supreme Court upheld his ruling," said Napolitano. "We may see this going in that direction now."
Finally, Napolitano inferred that the invocation of executive privilege suggests that Holder discussed the details of this operation with the President which is "at odds" with his testimony before Congress – this could lead to a charge of "misleading the Congress."
"They can't have it both ways," Napolitano concluded. "If the President was not personally involved, executive privilege does not apply." He said that the administration could make a case that these documents relate to national security, but that would contradict Holder's testimony before Congress.
Watch the segment below via Fox News Channel:
> >Follow Noah Rothman (@Noah_C_Rothman) on Twitter
Have a tip we should know? tips@mediaite.com