Judge Napolitano Weighs In On TX Prosecutor Killings: 'Terrifying' For Officials To Work In Fear Of Assassination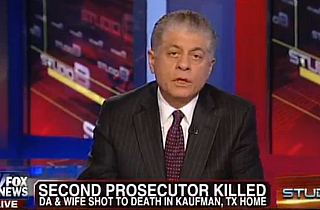 Fox's senior judicial analyst weighed in on the ongoing Texas prosecutor killings, calling the whole ordeal "terrifying" because no one expects to go to work one day and be murdered the next for simply doing their job. The state is on high alert after a second local district attorney was killed in less than two months.
Kaufman County D.A. Mike McClellan and his wife were found dead this weekend, months after he vowed to find the killer of his Assistant District Attorney Mark Haase. Many are speculating that the Aryan Brotherhood might be behind the assassinations in retaliation for an indictment of 34 of its members.
Fox judicial expert Judge Andrew Napolitano expressed just how "terrifying" this entire ordeal is, especially given just how serious this retaliation against law enforcement officials seems to be.
"When you go to work in the morning to do your job and you know that out there — it could be close to you or a distance, but getting closer — is somebody wants to kill you for doing your job of keeping people safe," Napolitano said.
Of the ongoing investigation into the murders, Napolitano suggested "no stone will be unturned" and "the federal government and at the state of tax will pour massive resources into finding who did this" because "the people are entitled to a government that works and is not afraid to do it job, and whoever is trying to interfere by means of violence will be caught and stopped."
Watch below, via Fox:
Have a tip we should know? tips@mediaite.com