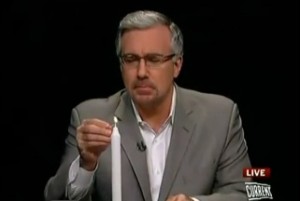 It began with some lighting problems in his Countdown digs, and ended, today, with Keith Olbermann's  firing by Current TV for what sources close to the situation say is "serial, material breach of contract."
Olbermann, for his part, says the claims against him by Current are "untrue," and that he plans to sue. He's currently engaged in a Twitter tirade against Current executives Joel Hyatt and former VP Al Gore.
Olbermann was fired via a written letter delivered Thursday morning to Nick Khan, agent for Mr. Olbermann, and the source says that the decision "reflected a unanimous agreement amongst the senior management" at Current TV, based on "Mr. Olbermann's serial, material breach of his contract, including the failure to show up at work (Unauthorized Absences); sabotaging the network (Failure To Promote); and attacking Current and its executives (Disparagement)."
Current executives fired Olbermann because "Mr. Olbermann did not respect the viewers of Current, as he was contractually obligated to do so; and did not support what Current is trying to do when it comes to being a progressive media platform at a time of major corporate consolidation of media properties per his contract," the source says.
Olbermann released a statement disputing Current's version of events, but note the parsing:(emphasis mine)
I'd like to apologize to my viewers and my staff for the failure of Current TV.

Editorially, Countdown had never been better. But for more than a year I have been imploring Al Gore and Joel Hyatt to resolve our issues internally, while I've been not publicizing my complaints, and keeping the show alive for the sake of its loyal viewers and even more loyal staff. Nevertheless, Mr. Gore and Mr. Hyatt, instead of abiding by their promises and obligations and investing in a quality news program, finally thought it was more economical to try to get out of my contract.

It goes almost without saying that the claims against me implied in Current's statement are untrue and will be proved so in the legal actions I will be filing against them presently. To understand Mr. Hyatt's "values of respect, openness, collegiality and loyalty," I encourage you to read of a previous occasion Mr. Hyatt found himself in court for having unjustly fired an employee. That employee's name was Clarence B. Cain.

In due course, the truth of the ethics of Mr. Gore and Mr. Hyatt will come out. For now, it is important only to again acknowledge that joining them was a sincere and well-intentioned gesture on my part, but in retrospect a foolish one. That lack of judgment is mine and mine alone, and I apologize again for it.
Olbermann may disagree with the way Current has characterized their philosophical differences (disrespecting viewers, for example), but their factual claims about him missing work are pretty tough to argue with. In January and February, he missed 19 out of 41 working days, including the nights of the Iowa Caucus and New Hampshire Primary. At around $50K per show, that's almost $2 million worth of "bronchitis."
At least two of those absences appear to have occurred with little or no notice, and according to this source, no authorization. On March 5, Current ran a two-hour version of The War Room with Jennifer Granholm from 8-10 pm, and on March 9, a two-hour episode of The Young Turks. Olbermann's requests for time off came with insufficient notice to find a replacement.
According to our source, on February 27, after missing almost half of his scheduled shows at that point in 2012, Olbermann asked for a vacation day on March 5, the night before Super Tuesday – one of the most significant news evenings of the entire campaign. Olbermann was told it would be a breach if he took it – and, nonetheless, he took it.
Olbermann's threat of legal action, especially given the above facts, figures to be posturing similar to previous threats to sue, among others, Tucker Carlson, which never came to fruition.
Since Olbermann's troubles with the network began to surface late last year, I've been in touch with various sources at Current TV, who have all along expressed admiration for Olbermann's talent, and a desire to accommodate him whenever possible. The attendance hiccups were treated sort as "Keith being Keith."
As the network's marquee talent, they seemed to have little choice but to put up with it, but it's my sense that Olbermann's growing rebellion, coupled with the network's increased confidence in the rest of its slate, finally precipitated this action. While Olbermann's ratings have been, by far, Current's best, the show has generally not suffered steep declines under guest hosts, and the performance of The Young Turks has been impressive, actually delivering Olbermann a host of new, younger viewers at 8 o'clock. Olbermann's departure (he's being replaced by Eliot Spitzer) will certainly mean some major rethinking by the network.
In any case, a tentpole that's never there can't hold up much of anything.
Have a tip we should know? tips@mediaite.com