In Unearthed Interview Larry King Describes Being Seduced As Young Radio Host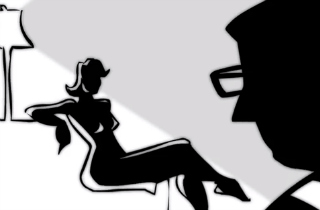 In a long-lost interview snippet with Esquire, recently unearthed by Blank on Blank, legendary broadcaster Larry King reveals a hilarious story about the time he was seduced by a random woman while DJ'ing at a local radio station.

When he was 23 years old and reporting/DJ'ing for WAHR in Miami Beach, Fl., King received a call from a listener, telling him she wants him sexually. In a 2001 audio interview with Esquire, King explained:
I'm playing these records, and the phone rings and I pick it up and say, "WAHR" and this lady's voice—I can still hear her voice—she goes, "I want you." [Laughter] I go, "What did you say?" "I said I want you." And I said to myself: there's a couple of extra pluses to being in this business. So I said—the immediate thing, I swear to god—"I get off at six!" She says, "Naw, that won't do. I've got to go to work. You gotta come now." I said, "But I'm on the air." She says, "I'm only 12 blocks from the station. Here's my address. If you can make it, please. I really want you." Hangs up. I got her address. I'm the only one in station. So here's what the audience heard: "Ah folks, I'm only sitting in tonight, so I've got a real treat for you. You're going to hear the entire Harry Belafonte at Carnegie Hall album uninterrupted. I had 33 minutes, which is all the time I needed. To this day that's still true.
After putting on the Belafonte record, King recalled rushing to the lady's home nearly 11 blocks away. He pulled into her driveway and went inside to find a woman wearing a white negligee. As the two begin their business, King hears his own radio station playing Belafonte's "Jamaica Farewell" in the background. But the record begins to skip:
"Where the nights—where the nights—" The record gets stuck. I push her back. I jump in the car. I drive to the station. And this is Jewish masochism: I keep the radio on. "Where the nights—where the nights—where the nights— where the nights—" and I was petrified. I come back. All the phones are ringing. I'm apologizing to people. And the last call I never forgot. An old Jewish guy. "WAHR" and I hear this guy go, "Where the nights—where the nights. I'm going crazy. I'm going crazy." I said, "Sir, I apologize. Why didn't you change the station?" He says, "I'm an invalid. They set the station for me on top of the bureau and I can't reach it."
Listen to the story below, via Blank on Blank:
— —
>> Follow Andrew Kirell (@AndrewKirell) on Twitter
Have a tip we should know? [email protected]