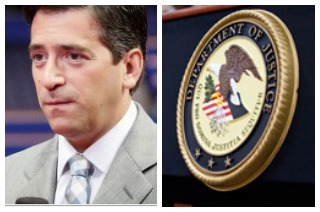 The Obama administration fought to keep secret the search warrant for Fox News reporter James Rosen's personal emails even as two judges said the Justice Department was required to inform him, the New Yorker's Ryan Lizza reported on Friday. Prosecutors argued they may have needed to monitor the account over a lengthy period of time.
U.S. Attorney Ronald C. Machen felt Rosen — who was accused of being "aider, abettor, and/or co-conspirator" — should not have been notified because it risked compromising the investigation. Lizza's report is based on a court filing between the Justice Department and the federal judges overseeing the warrant matter. Machen noted that "some investigations are continued for many years" and argued:
E-mails, Machen wrote, "are commonly used by subjects or targets of the criminal investigation at issue, and the e-mail evidence derived from those compelled disclosures frequently forms the core of the Government's evidence supporting criminal charges."
Two judge separately stated that, even if delayed, the Department of Justice was required to notify Rosen (who was not indicted) about the searches. Machen appealed the decision and a federal judge overrode the two judges.
In essence:
"The new details indicate that the government wanted the option to search Rosen's e-mails repeatedly if the F.B.I. found further evidence implicating the reporter in what prosecutors argued was a conspiracy to commit espionage."
News about the government tracking Rosen and snooping into his personal emails broke shortly after the media caught wind of the Justice Department's seizing Associated Press phone records — both stories that have caused an uproar and dominated the recent scandal-centered news cycle. Rosen's 2009 reporting about North Korea sparked suspicion that government sources leaked classified information to him.
Read the full report (including documents) here.
Have a tip we should know? [email protected]