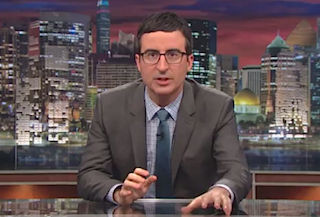 From the first few seconds of its opening credits last night, featuring comical latin names for hot topics like guns (deus ex machina) and Israel (terra complicatus), HBO's Last Week Tonight with John Oliver (hostus mostus) declared its intentions loud and clear. This was not your run-of-the-mill late night talk show, but rather something smarter, something more advanced, something to which you should pay attention.
Over the course of an ambitious media tour, the former Daily Show correspondent had laid out his intentions to use the "burden of time" inherent in his new weekly format to tackle subjects that other topical comedians had ignored. After all, by the time Sunday night rolls around, how much is there really left to say about the big stories of the week? For his debut, Oliver happened to have the benefit of a new story the late night crowd hadn't gotten to yet: L.A. Clippers' owner Donald Sterling's racist rant. He was just lucky Saturday Night Live was off this week and didn't get the first crack before he did.
But Oliver only used his British intellectual distance to mock Sterling and that other old American racist, Cliven Bundy, for a few moments before moving on to something decidedly less outrage-friendly. Like the similarly-minded Al Jazeera, which recently showed CNN how to report the crucial details of the missing Malaysia Airlines plane story in just 30 seconds, Oliver fit everything he needed to say about Sterling and Bundy into less than two minutes. After a brief detour through some other new news about the Pope, he shifted his gaze towards a story about which no one else has been joking: Oregon's decision to drop its state-based health care exchange.
This gave Oliver a chance to reprise a tactic he teased last month, delivering a spot on parody of the state's twee, hipster ad campaign designed to appeal to the Portlandia crowd (note the lack of bleep on "fucking ukelele"). He even enlisted a deadpan, blast from the past Lisa Loeb to help speak to the people of Portland in their own language.
Watch video below, via HBO:
When that bit was over, Oliver quickly transitioned to campaign news. No, not the 2016 presidential race ("Who gives a shit?" he mused), but instead another story that was getting zero attention on U.S. cable news, let alone late night. Using clips from the BBC and other international news agencies, Oliver delivered a solid eleven mites on India's 2014 election, including the debut of his killer John McLaughlin impression. It was the type of informative yet entertaining coverage of a story Americans hear too little about that The Daily Show has been doing for years. "If this story isn't worth covering," Oliver declared, "then nothing is worth covering."
The extended segment that followed on POM Wonderful's fight against Coca-Cola and Kellogg's false claims about Frosted Mini-Wheats was less successful. Yes, it's terrible that food brands are using the First Amendment to protect the lies they put on their packaging, but did it require six minutes of coverage in the premiere episode? Sure, it gave Oliver the chance to say "fuck you" to Pop Tarts, but it felt a bit disjointed following the solid India segment, with only a brief detour through John McCain's repetitive joke-telling to break things up.
It wasn't until the end of the show that Oliver finally got to do what he does best, what made him a stand-out member of the "Best F#@king News Team Ever." Instead of inviting his guest, former NSA Director Keith Alexander, onto his talk show set for a live conversation like Jon Stewart would do, Oliver crafted his interview like one of The Daily Show's classic field pieces. While Stewart's approach may be more generally honest, fair and generous to the guest in question, Oliver's may ultimately be more illuminating.
And like the best guests on The Daily Show's field pieces, Alexander was game to play along, especially when Oliver presented ways to rebrand the NSA, from adopting the Washington Redskins' logo to renaming the agency "Mr. Tiggles." Without the need to pause for audience laughter or applause breaks, Oliver could conduct an interview that was both more nuanced and funnier with a man who genuinely had a lot of light to shed on the issues of privacy and security. One idea he did take from Stewart was to put an extended version of the interview online.
Watch the full, extended interview with Alexander below, via HBO:
After a widely-praised stint filling in for Jon Stewart last summer, Oliver's HBO debut came with high expectations that he was unlikely to meet. While the first episode of Last Week Tonight contained plenty of genuinely funny moments, the show's 30 uninterrupted minutes felt too jam-packed with material with little room to breathe. Nobody likes commercials, but at least they help break up the break-neck pace of shows like The Daily Show and The Colbert Report. And Oliver's HBO colleague Bill Maher has the benefit of a one-hour format and well-defined segments that allow him to proceed at a leisurely pace.
But what Oliver has set out to do is commendable. Last year, Al Jazeera America declared its intentions to report the stories that traditional cable news was ignoring. Oliver has an even more crowded late night landscape to contend with, but by putting his stamp on the end of the week every Sunday night, he has the chance to do something truly different with the medium. Also like Al Jazeera America, which has struggled with measly ratings, Oliver's bosses at HBO have publicly said they are dedicated to his brand no matter how many people are watching.
That freedom should give Oliver a chance to take chances that other hosts can't, and cover stories that other hosts won't. Once he relaxes a little and figures out where the wants he show to take him, he could prove to be a vital voice in the world of political comedy. And with The Colbert Report ending its run later this year, that is a void worth filling.
[photo via screengrab]
— —
>> Follow Matt Wilstein (@TheMattWilstein) on Twitter
Have a tip we should know? tips@mediaite.com