Laura Ingraham Blasts The View: When I Was Called A Slut, Barbara Walters Laughed
Laura Ingraham Blasts The View: I Was Called A Slut, They Laughed It Off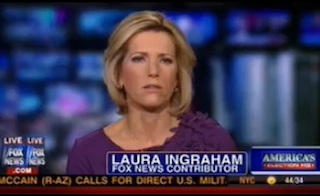 Laura Ingraham appeared on Tuesday's Fox & Friends, and spoke out about the controversy swirling around Rush Limbaugh's remarks to Georgetown University law student Sandra Fluke. Co-host Gretchen Carlson asked the conservative radio host whether there was a double-standard when liberals use slurs against conservatives.
"When it was brought up on The View — I go on there every now and then and they're always really nice to me when I go — when it was brought up on The View, Barbara Walters kind of laughed it off, like, 'Joy, you call me that word all the time,' and they just laughed. But when Fluke goes on yesterday, it's 'Oh, isn't this a tragedy?' and 'Oh isn't this horrible? Rush Limbaugh should be driven off the air.'"
RELATED: Sandra Fluke Condemns Rush Limbaugh And Praises Media Matters On The View
Ingraham was referring to a segment from last May, where Walters and Joy Behar chuckled over Ed Schultz calling Ingraham a "right-wing slut," as Newsbusters' Matt Hadro reported at the time:
BARBARA WALTERS: I would like to say that Joy Behar, on this program, has called me a slut.

(Laughter)

GOLDBERG: Joy Behar has called many people a slut on this program. Did you hear from this woman's organization? Ever?

JOY BEHAR: Why Barbara, when I call her a slut, the truth is an ultimate defense. That's all I have to say.

WALTERS: I beg your pardon.
"This is about free speech," Ingraham concluded. "And the idea they're going to target this man's advertisers because of this — with a 20-year career — you know why they're going after Rush? Because he's effective."
Watch Ingraham slam Walters below via Fox News:

Have a tip we should know? [email protected]