Lawrence O'Donnell Reviews What Sacha Baron Cohen Can Tell Us About Newt Gingrich And Ron Paul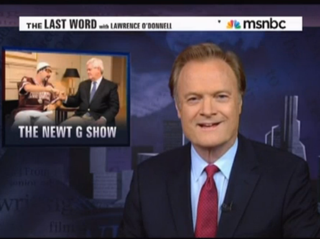 Tonight, Lawrence O'Donnell dedicated a segment to correcting Newt Gingrich's misconceptions. Not a surprising development, except for the fact that the misconception in dispute was that Gingrich considered his commercial with Rep. Nancy Pelosi the most foolish thing he had done in recent years. O'Donnell disagreed, turning to another video encounter in Gingrich's past: his interview with Sacha Baron Cohen character Ali G.
RELATED: Trailer For Sacha Baron Cohen's The Dictator, In Which He Plays A Gaddafi-Like Ruler, Looks Amazing
O'Donnell did not keep his analysis exclusive to Gingrich, also playing the clip of Baron Cohen embarrassing a very outraged Rep. Ron Paul by propositioning him for sex in his hotel room as the gay Austrian TV maven Brüno. Both clips are definitely worth watching (and re-watching!)– for those who have forgotten (or weren't following the brilliant Da Ali G Show when it was still on HBO), the full Gingrich encounter is below:



For O'Donnell, the most ridiculous thing about the Gingrich interview was the fact that Gingrich "never figured out that the whole thing was a joke," while he noted– with Richard Wolff in tow– that the Rep. Paul tape showed something sinister about the Congressman that wasn't particularly overt in his campaign– that he was, as one former staffer noted, "personally uncomfortable around homosexuals." Wolff found the anecdote told by that former staffer that Rep. Paul wouldn't use a bathroom at a home where two gay men lived "pathetic," and the fact that what bothered Rep. Paul was that Brüno was "queer" to be the problematic bit of that prank.
Back to Gingrich, O'Donnell noted that "I love that someone spun him 'you should talk to this guy because he's big in England," which Wolff added that was due to a quality not unique to Gingrich "a truckload of politicians are so desperate to be on TV that they will put up with this nonsense."
The segment via MSNBC below:

Have a tip we should know? tips@mediaite.com