Matthews Interviews Jimmy Carter's Grandson James About Uncovering Romney's 47% Tape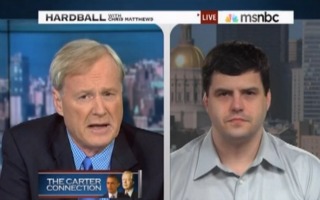 James Carter IV, the grandson of former President Jimmy Carter and the researcher who discovered the hidden camera video of Mitt Romney making his now infamous comments about the 47 percent of Americans who pay nothing in income taxes and logically would support President Barack Obama, appeared on MSNBC's Hardball on Tuesday. There, he talked about how he uncovered the video and why he did it.

RELATED: Watch The Full Hidden Camera Video Of Romney Fundraiser
"It's an honor to have on such a good researcher and such a good reporter," Chris Matthews began, before asking if the former president was watching.
"I hope so," Carter replied.
"Nice to see you Mr. President, thanks for letting me be one of your people," said Matthews.
Matthews asked how Carter came up with the hidden camera video of Romney at a closed-door fundraiser. "I found a piece of the longer video during a regular, like a routine search on YouTube that I do and I tracked it down to its source and talked them into giving it up," Carter replied.
Matthews asked why the owner of that video gave it up. "They thought that some of the things that Romney was saying in the video needed to be heard by a wider audience," said Carter.
Matthews asked if it was fair to assume that it wasn't one of the high dollar donors in the room. Carter thought that was a reasonable assumption, to which Matthews speculated that it might have been a caterer.
"I think most journalism is driven by some kind of drive – it can be ambition, it can be the truth, it can be an attitude about some of the people you cover," Matthews said. "What was your attitude about getting this tape into the hands of David Corn who is a liberal writer and you figured he would get it out?"
Carter replied that he, as a partisan Democrat, believed it would assist Democrats in the coming election.
Finally, Matthews asked if Carter resented Romney's impugning of President Carter on the stump. James Carter IV replied that he did not hold Romney in high regard because of those attacks.
Watch the clip below via MSNBC:
> >Follow Noah Rothman (@Noah_C_Rothman) on Twitter
Have a tip we should know? tips@mediaite.com