Mediaite Historical Society Presents: Fabio Slams Barack Obama For Hypocritical Smoking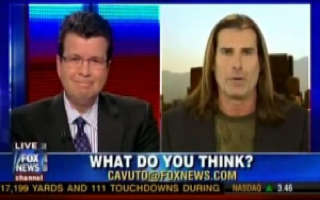 Here at Mediaite, we believe we have a responsibility of passing down our colorful history to the next generation. We do it for the children. So as we approach the second anniversary of our founding, we will be regularly taking a look back at the moments that made us laugh, cry, and throw things at our television set– but probably just made us roll our eyes at the time. Herein is the second installment of Mediaite Historical Society Presents:
There are likely very few things that romance novel icon Fabio has extensive knowledge about. He knows about modeling, and maintaining a good physique, and probably a great deal about hair products. He may also know a thing or two about Europe, since he's from there. So, last December, Fabio was the obvious choice for a segment on Fox News about Michelle Obama's child nutrition initiative and the mortal peril it presented to The American Way™.
Fabio delivered– after a few tips on how to find the "Fountain of Youth" that were neither here nor there, Your World host Neil Cavuto directed the conversation in a more topical direction, asking Fabio whether he supported President Barack Obama's health initiatives. "The guy smokes!" a shocked Fabio replied. "He's not into health!" This somehow became a tirade on how politicians have "already ruined the rest of the world" and America is "the only country left on the planet where things still work." The chyron? "Fabio on the Future of Electric Vehicles."
The retro segment via Fox News below:

Have a tip we should know? tips@mediaite.com