Mediaite Morning Reading List: Twitter Outrage, Obamacare Deadlines, and Sudanese Violence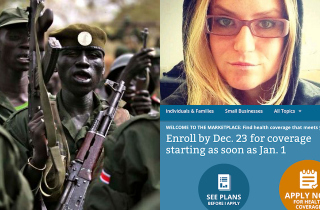 Every a.m., Mediaite publishes a primer of what the interweb machine is writing, talking, tweeting, and blogging about, so that you may fool friends and family into thinking you are a trove of information and insight. Today: how the world's newest country descended so quickly into violence, what the deadline extension for Healthcare.gov means, and interrogating the aftermath of the Justine Sacco mess.


"The World's Newest Country is Already on the Brink of Civil War. Here's How It Happened" (Max Fisher, Washington Post)
The always-informative Max Fisher gives you a quick but comprehensive breakdown of the situation in South Sudan, which worsened yesterday after two weeks of violence, as rebels gained control of a economically crucial city while the U.S. sent Marines to protect U.S. citizens. All this in the world's newest country—South Sudan was established just two years ago, though as Fisher points out, its ethnic and political divides are far older, and the very forces that led to the creation of the country might now be tearing it apart:
There are three big forces driving the conflict: (1) South Sudan is very poor and underdeveloped, and resource scarcity tends to fracture politics and exacerbate ethnic conflict; (2) The same forces that helped South Sudan win independence – militias, strongly felt tribal identities – also set it up for today's conflict; (3) More narrowly, the country's president had fired the vice president, starting a political dispute that may have been the match to South Sudan's tinderbox.
Read the whole etc.
"Drill Down" (Keith Johnson, Foreign Policy)
Over at FP, Keith Johnson argues that the sudden cessation of oil drilling in Bentui, the city captured by rebels, after production had just resumed following a 15-month hiatus, is "a reminder that for all of Africa's energy promise, and grandiose dreams of oil-fueled development, the continent's ability to tap those sources of wealth remains hostage to bad security and governance."
This has global consequences:
South Sudan's unrest, and the new threat to its oil production, comes in the context of a wave of production disruptions across Africa and the Middle East that has essentially erased the production gains made in the United States and elsewhere. All told, supply disruptions across the globe — including from Iran and Iraq — averaged about nearly 3 million barrels a day in late 2013, 50 percent more than the level of disruptions over the previous few years.
"Day Is Added to Deadline as Rush Hits Health Portal" (Michael Shear and Robert Pear, New York Times) / "The Obamacare Exchange Will Stay Open Today. Here's Why" (Jonathan Cohn, New Republic)
The White House added a 24-hour grace period to the December 23 deadline for purchasing health care coverage that will go into effect January 1, due to what it counted as over 1 million visitors before 5 p.m. yesterday. The surge in traffic caused the website to queue visitors, for which the administration used a technical gimmick of adding an extra day to the enrollment process, a process one official likened to extending polling hours to accomodate long lines of voters. The 1 million visitors was reportedly five times the number that hit the site last Monday (though, honestly, who knows).
As always, you should be reading TNR's Jonathan Cohn for what this all means. Cohn argues that the people signing up last minute are likely to be those who, ineligible for subsidies, are blanching at the cost of the available health plans. But the "sticker shock" mainly exists because the true price of employer-offered health care, which would otherwise be expressed in wages, is hidden.
"Justine Sacco And The Self-Inflicted Perils Of Twitter" (Jeff Bercovici, Forbes) / "Justine Sacco's Aftermath: The Cost of Twitter Outrage" (Roxane Gay, Salon)
Forbes' Jeff Bercovici—who knows Justine Sacco, the PR exec turned internet cautionary tale—has a fair, deliberate piece about the tweet that cost her her job. Without excusing Sacco's tweet (though he makes a credible argument that she was mocking white privilege more than engaging in it), Bercovici describes Twitter, and all communication technology, as dynamic and evolving vehicles for expression, which will likely graduate into a more accepting discourse, but for which some people, and not always the right ones, will be sacrificed along the way.
Roxane Gay has a post at Salon that both complements and complicates Bercovici's take. Gay makes the too-rarely heard argument that Twitter outrage is not all kneejerk schadenfraude—she brings examples ranging from the organic support for Wendy Davis to the backlash against the Harriet Tubman sex tape—but that in the outrage we often participate in the exact sort of reductive behavior we seek to criticize. Both pieces are thoughtful analyses in real time; read 'em.
[Image via screengrab]
——
>> Follow Evan McMurry (@evanmcmurry) on Twitter
Have a tip we should know? tips@mediaite.com