Megyn Kelly And A Classmate Of Arizona Gunman Discuss Potential Warning Signs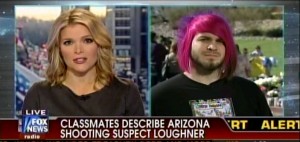 Turning the channel and seeing Fox News' Megyn Kelly interviewing an edgy-looking, young guy with bright, pink hair, one might expect something so surreal it's funny or, quite possibly, a hostile interaction. That wasn't the case, however, when Kelly brought on Steven Cates, a classmate with Jared Loughner at Pima Community College before the eventual gunman was suspended "Code of Conduct violations." The interview, instead, was a thoughtful conversation on the nature of being an outcast and the difference between someone who might be a little weird and someone who is genuinely disturbed and in need of help.
Cates explained how, at school, he had felt empathy towards the "loner" Loughner as he, himself, is an admitted outcast. After seeing how Loughner was incapable of "connecting socially" (the young man apparently had problems with smiling and laughing inappropriately and wrote a poem for class that had sexual content which disturbed other students), Cates attempted to engage him. He explains that he would talk to him more and high five him upon seeing him, but that a friendship never grew from there. When Kelly asked Cates what could have maybe prevented this tragedy, he guessed that Loughner's growing isolation after leaving school could have been one of the biggest causes:
"I personally think it was a downward spiral after he had been removed from Pima because it seemed like, when he had Pima, he had the academic side of life to be able to focus on and he had the community of education. And it seemed like, once he had the spiral into the Internet communities, it's where the spiral into the social isolation led to the tragedy."
It was a fascinating interview and one that further put to rest the political connections theory of motivation for the killer as Cates explained that Loughner had little interest in debating politics, instead focusing on philosophy and logic.
Watch the segment from Fox News below:
Have a tip we should know? tips@mediaite.com