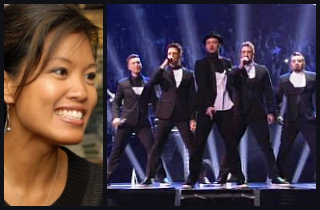 Yes, you read that correctly. Last night during the 2013 MTV Video Music Awards, conservative pundit and author Michelle Malkin was really pumped over the reunion of 11-years-dormant boy band NSYNC.
Weird, right?
Let's put it this way: Malkin tweeting excitement over a boy band's reunion would be as surprising as, say, Bill O'Reilly declaring himself giddy over the rumors of a Led Zeppelin international reunion tour. Or, conversely, it's like MSNBC's Martin Bashir going on-air to express glee over a recent Big & Rich country show he attended.
But Malkin's hypothetical actually happened.
To put it in the verbiage of her site Twitchy, Malkin "squeed" along with the rest of America over NSYNC's reunion:
NSYNC!!!! Ahhhhhhhhhhhh!

— Michelle Malkin (@michellemalkin) August 26, 2013
At first it seemed like she was mocking the vomitous and anti-family MTV culture but, no, she was genuinely thrilled. Or as Twitchy might say: "Giggle N'SNORT."
That was until the reunion lasted only two minutes:
Wait a minute. That's IT? #bringbackNSYNC #MTVVMAs

— Michelle Malkin (@michellemalkin) August 26, 2013
Some of Malkin's followers were just as surprised as we were about her pop culture participation. "Hacked?" one asked. "Not you too," another lamented.
But let's not forget that Malkin is a human being (and a very kind-hearted one, I've heard). Pop icon worship certainly differs from her on-air persona — where everything is an outrage or makes her want to vomit — but she simply cannot resist the falsetto croon of JT and his gang.
I guess the lesson here is that, despite an on-record support for the internment of Muslim-American citizens, Malkin is just like the rest of America and can participate in our permissive liberal culture that celebrates glitzy moments such as this.
You can re-live those moments again and again below, via MTV:
— —
>> Follow Andrew Kirell (@AndrewKirell) on Twitter
Have a tip we should know? tips@mediaite.com